Olivier Gendebien is dead
Brussels, October 3, 1998
One of the most successful racing drivers ever is dead: The Belgian Olivier Gendebien died aged 74 on October 2, 1998 after suffering for a long time from a rare disease which carries his name.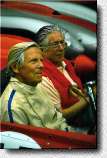 The Belgian aristocrat had come in touch with motor racing during WW2 in Congo. Between 1955 and 1962, he was a Ferrari works driver and achieved many, many wins for the Scuderia during this period. He succeeded four times in the famous 24 Hours of Le Mans: 1958, 1960, 1961 and in 1962.
To him, the most important success in his lifetime was his 3rd position in the 1957 Mille Miglia when he could keep up with the speed of the leading open sports cars in his inferior 250 GT LWB Berlinetta Scaglietti "Tour de France" and eventually even won the "Gran Premio Nuvolari", the Mille Miglia's final stage between Mantova and Brescia.

Gendebien did also participate in Formula One events and was part of the Scuderia's legendary "1-2-3-4 success" at Spa-Francorchamps in 1961 where he drove his yellow Dino 156 F1 to fourth.

Despite of his fatal illness, Gendebien remained a part of the motor racing world until recent years when he took part in the Mille Miglia Storica on the passenger's seat of a Mercedes-Benz 300 SL. With the passing of Olivier Gendebien, the Motorsport has lost one of its most important personalities from the era of the wooden steering wheels and wire wheels.
Gregor Schulz
Translation Andreas Birner