Umberto Maglioli is dead
Monza, Februar 7, 1999
Umberto Maglioli became a legend in 1954 when he won the last Carrera Panamericana in a Ferrari 375 Plus Spider Pinin Farina s/n 0392AM. Since then, Maglioli's name has been fortified in the memory of the majority of the Ferraristi because the race he won was not just one among others but the toughest one which was ever part of the world championship.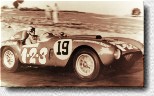 On February 7, 1999 Umberto Maglioli crossed another finishing line: The Italian – born on June 5, 1928 in Biella – died of a severe illness.
Photo: Umberto Maglioli at the wheel of 375 Plus s/n 0392AM during the 1954 Carrera Panamericana

Umberto Maglioli was noticed in motor racing for the first time in 1951 when he and his mentor Giovanni Bracco drove a stock Lancia Aurelia B20 to 2nd OA in the Mille Miglia. After he won the 1953 Targa Florio (again in a Lancia), he was called into the Scuderia Ferrari and proved "worthy" in January 1954 when he took the win in the 1000 Kilometers of Buenos Aires in 375 Plus s/n 0398TF.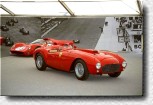 At this time Maglioli had already had his first experiences in Formula One driving: He took part in his home Grand Prix at Monza in 1953. But Maglioli never became that successful in piloting single seaters as he did with the sports cars, hence his Formula One entries were only a few. His curriculum vitae shows two third positions in Formula One racing, but at this point one should stress that it was possible to take over a car from one's teammate during a race in these times...
Umberto Maglioli left the Scuderia Ferrari in 1956 and found a new home at Porsche (after a short intermezzo with Maserati); he stayed with the Germans for more than a decade, his last great victory dating 1968 when he won the Targa Florio in a Porsche 907/8 which he shared with Vic Elford. 1964 had seen a short comeback with Ferrari: Umberto Maglioli drove the 250 P s/n 0812 in the 12 Hours of Sebring and eventually ended up on op of the podium.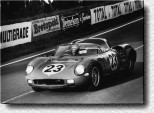 Text Gregor Schulz
Translation Andreas Birner