Daytona, February 1st, 1998
Gianpiero Moretti's dream of winning the Daytona 24 Hours became reality in 1998. He and teammates Mauro Baldi, Didier Theys and Arie Luyendyk drove his Ferrari 333SP s/n 019 to victory in this great American race. This win by MOMO-Moretti Racing is Ferrari's biggest success in an around-the-clock race at Daytona since 1967.
The car was painted in the colors of MOMO. Moretti had founded the famous Italian steering wheel manufacturer in the '60s and started competing at Daytona in 1970, behind the wheel of Ferrari 512S s/n 1032.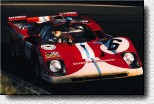 He recalls: "I was here with two mechanics -- no tires, no wheels, no fuel, no anything -- and we started the race. That was 28 years ago. Now we have 25 people. We change tires every stint. We have 48 wheels and a super big truck. "
In later years, Moretti began reach for the stars: "It was 1978 when I really started to try to win the Rolex 24 at Daytona," he says. "I'm sure in the beginning our preparations weren't quite right. Then I started to race with the Porsche 962, and the Nissan, and then again with the Ferrari. Finally, I believed we had the opportunity to win this race. To me, it often seemed like a black cloud hung over me at Daytona. I love Daytona -- but Daytona didn't seem to like me. I'd try again – and again. What the heck – today, I finally did it!"
For the Dutchman Arie Luyendyk, the win at Daytona is another piece in his collection of wins in great American races. Last year, he was successful in the Indy 500 for the second time, and in 1989 he won the Sebring 12 Hours.
As far as the two other Ferrari 333SPs at the Rolex Daytona 24 Hours 1998 - the Scandia car which had started from pole position, driven by Max Papis, Andy Evans, Yannik Dalmas, Bob Wollek and Ron Fellows, finished 20th after a piston problem. The Taylor/Van de Poele/Velez car retired and was listed in 55th position in the overall classification.
The second place in the race went to the Porsche 911GT1 of Allan McNish, Danny Sullivan, Jörg Müller, Dirk Müller and Uwe Alzen.
3hrs
O/A Pos., Car, Class Pos., Drivers, laps, car, laps during hour, laps down

1, 3, CA, 1, Papis/Evns/Dalms/Wlk/Felw, 90, Ferrari 333 SP, 0, 0

2, 17 CA, 2, Taylor/Van de Poele/Velez, 90, Ferrari 333 SP, 0, 0

3, 20 CA, 3, Leitzinger/Paul/Schroeder, 89, Riley & Scott, 0, -1

4, 99 GT1, 1, Brbhm/Brnrd/Davies/Bundy, 89, Panoz GTR, 0, 0

5, 38 GT1, 2, Boutsen/Pilgrim/Kelleners, 89, Porsche 911 GT1 0, 0

6, 30 CA, 4, Mortti/Theys/Lyndyk/Baldi, 88, Ferrari 333 SP, 0, -2
6hrs
1, 3, CA, 1, Papis/Evans/Dalms/Wlk/Felw, 183, Ferrari 333 SP, 31, 0

2, 20, CA, 2, Leitzinger/Paul/Schroeder, 183, Riley & Scott, 32, 0

3, 99, GT1, 1, Brbhm/Brnrd/Davies/Bundy, 182, Panoz GTR, 31, 0

4, 30, CA, 3, Mortti/Theys/Lyndyk/Baldi, 181, Ferrari 333 SP, 32, -2

5, 38, GT1, 2, Boutsen/Pilgrim/Kelleners, 180, Porsche 911 GT1, 31, -2,

6, 36, CA, 4, Matws/Pace/Waddl/Salazar, 178, Riley & Scott, 30, -5

7, 01, GT1, 3, McNsh/Sllvn/Mllr/Alz/Mllr, 178, Porsche 911 GT1, 30, -4

8, 16, CA, 5, Weaver/EFR/Dyson, 177, Riley & Scott, 30, -6

9, 17, CA, 6, Taylor/Van de Poele/Velez, 176, Ferrari 333 SP, 29, -7

10, 74, GT1, 4, Robns/Bldwn/Hoerr/Goodng, 173, Olds Aurora, 29, -9
17hrs
| | | | | | | |
| --- | --- | --- | --- | --- | --- | --- |
| 1 | 20 | CA | Leitzinger/Paul/Schroeder | 504 | Riley & Scott | 0 |
| 2 | 30 | CA | Mortti/Theys/Lyndyk/Baldi | 501 | Ferrari 333 SP | -3 |
| 3 | 3 | CA | Papis/Evns/Dalms/Wlk/Felw | 494 | Ferrari 333 SP | -10 |
21hrs
| | | | | | | |
| --- | --- | --- | --- | --- | --- | --- |
| 1 | 30 | CA | Mortti/Theys/Lyndyk/Baldi | 626 | Ferrari 333 SP | 0 |
| 2 | 01 | GT1 | McNsh/Sllvn/Mllr/Alz/Mllr | 616 | Porsche 911 GT1 | 0 |
| 3 | 38 | GT1 | Boutsen/Pilgrim/Kelleners | 609 | Porsche 911 GT1 | -7 |
| 4 | 20 | CA | Leitzinger/Paul/Schroeder | 604 | Riley & Scott | -22 |
| 5 | 3 | CA | Papis/Evns/Dalms/Wlk/Felw | 599 | Ferrari 333 SP | -27 |
23hrs
| | | | | | | |
| --- | --- | --- | --- | --- | --- | --- |
| 1 | 30 | CA | Mortti/Theys/Lyndyk/Baldi | 681 | Ferrari 333 SP | 0 |
| 2 | 01 | GT1 | McNsh/Sllvn/Mllr/Alz/Mllr | 672 | Porsche 911 GT1 | 0 |
| 3 | 00 | GT1 | Bouct/Golrd/Rosnbld/Ahrle | 637 | Porsche 911 GT1 | -35 |
| 4 | 97 | GT2 | Kitchak/Seiler/Roslr/Zadr | 630 | Porsche 911 GT2 | 0 |
| 5 | 04 | GT2 | Graham/Morton/Husmn/Husmn | 630 | Porsche 911 GT2 | 0 |
| 6 | 10 | GT3 | Auberlen/Duez/Said/DeRad | 627 | BMW M3 | 0 |
| 7 | 4 | GT1 | Borkowski/Buhl/Kanann | 620 | Mustang Cobra | -52 |
| 8 | 16 | CA | Weaver/EFR/Dyson | 616 | Riley & Scott | -65 |
| 9 | 38 | GT1 | Boutsen/Pilgrim/Kelleners | 614 | Porsche 911 GT1 | -58 |
| 10 | 20 | CA | Leitzinger/Paul/Schroeder | 614 | Riley & Scott | -67 |
| 11 | 23 | GT3 | Havens/Conte/Holt/Lambert | 614 | Porsche 911 RSR | -13 |
| 12 | 3 | CA | Papis/Evns/Dalms/Wlk/Felw | 610 | Ferrari 333 SP | -71 |
24hrs
| | | | | | | |
| --- | --- | --- | --- | --- | --- | --- |
| 1 | 30 | CA | Mortti/Theys/Lyndyk/Baldi | 681 | Ferrari 333 SP | 0 |