An Invitation of His Royal Highness
Monaco, May 3 & 4, 1997
The little principality Monaco on the French Riviera is well known for its casino, its celebrities and its Formula One Grand Prix. This year, the Grimaldi family celebrated the 700th year of their regency, and so Prince Rainier III., who is known for his passion for cars, asked the Automobile Club of Monaco to organize an Oldtimer Grand Prix for cars built between 1927 and 1967 as a reminiscence to Monaco's history in the world of the motorsport - the first Grand Prix took place in Monaco in 1929.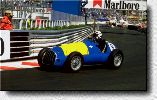 The response of the collectors around the world was enormous after the Grand Prix the Monaco Historique had been announced for the first weekend in May, although the very popular Mille Miglia Storica took place on the same date. Since space is limited in Monaco, the number of participants had to be limited as well, and so many enthusiasts who would have liked to enter their cars in the event received refusals.
Only the best of the best Grand Prix cars were present at Monaco, accompanied by a group of sportscars built before 1960 which were a reminiscence to the Grand Prix in 1952 which had been hosted for sportscars; Vittorio Marzotto won this race in a Ferrari 225 Sport Spider Vignale s/n 0154ED, and this very car was auctioned by Brooks in Monaco on Monday May 5, 1997. The only Ferrari entered in the sportscar race was P. Paul Pappalardo's 250 TR59 Spider Fantuzzi s/n 0774TR, the winner of the 24 Hours of Le Mans in 1960, then driven by Paul Frère and Olivier Gendebien.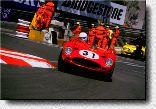 The races in the various GP-car categories featured several Ferrari of course, despite of the fact that the Scuderia never was very successful in Monaco; the record shows four victories, and only one of them took place prior to 1968.
No less than six F1-Ferrari had been entered in the races. For the spectacular 375 F1 driven by Ludovic Lindsey, the weekend was already over in practice after the driver had badly crashed the car in Loews corner.
Tony Merrick, a well-known restorer from England, piloted a 166 Formula Libre s/n 011F that once had been driven by Froilan Gonzales and Juan Manuel Fangio in the Argentinian colors of blue with a yellow nose. After a ground-up restoration by Merrick, the car could be seen in this very livery again after slumbering in a barn for decades.
In another race hosted for pre-1960 GP-cars, Merrick drove a 555 Supersqualo s/n FL/9001 which is claimed to have been driven by Paul Frère to 4th in Spa in 1955. Later, this Ferrari had been rebodied in Australia with a body coming from a Morris Minor (!) for touring car racing. In recent years it has been restored back to its original configuration.
Since Enzo Ferrari used to wreck his F1-material after a season instead of handing it over to privateers, there are many complete reconstructions between the older F1-Ferrari which are still in existence. The two Dino 246 Formula 1s s/n 0006 R2 and s/n 0011 present at Monaco had been reconstructed, 0006 R2 in the 1980's in England.
Another original car was the 1967 312 Formula 1 s/n 0003 which had been driven to 3rd by Chris Amon in the 1967 Monaco Grand Prix. The pilot in 1997, Franco Meiners, did not have the luck Amon had 30 years ago, dropping out of the race after just one lap due to a technical problem.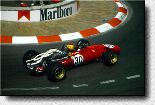 Jean Sage, former boss of Renault's Formula One Team and today the organizer of the Ferrari Shell Historical Challenge, was also involved in the organization of the Monaco Historic Grand Prix, and so he had it made possible to include an invitational race for the Challenge drivers in this event. To be more exact, a race for drum-braked Ferrari built prior to 1958.
The race was dominated by the eventual winner, Frank Sytner, who drove Sir Anthony P. Bamford's 250 TR Spider Scaglietti s/n 0752TR, and by Emanuele Pirro in Harald Mergard's 375 MM Spider Pinin Farina s/n 0376AM. The two touring car champions (Sytner was the BTCC-champion in 1988 in a BMW, and Pirro won the Italian championship for Audi in 1994 and 1995, plus the German STW-Cup in 1996, again driving an Audi A4) fought hard in the first phase of the race, but later Pirro decided that the risk of damaging the valuable car handed over to him was too high if he would try to defend his 1st position, and so he finally did let Sytner - who piloted Bamford's Ferrari with remarkably less respect - pass. After problems with the right rear tire occurred, Pirro finished in 4th position.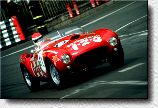 Two pretty old Ferrari had been brought to Monaco which proved as crowd-stoppers due to their unusual bodyworks:
The first being 212 Export Spider Motto s/n 0094E, which originally had been bodied for the Italian privateer Paolo Scotti who became 3rd with s/n 0094E in the Mille Miglia in 1951.
The second car in question was 212 Export s/n 0102E: this little spyder had been created by Vignale for the movie "The Racers" starring Kirk Douglas. In this film, s/n 0102E "acted" as a so-called "Burano", and Kirk Douglas impersonated the works driver of this fictitious marque.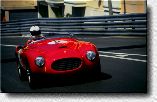 Although the Grand Prix de Monaco Historique had originally been announced as an once-in-a-lifetime-event, it will very probably not stay unique: A second edition is planned for 1999 to celebrate 70 years of motor racing in the little principality.