Ferrari at the aaa 1998
Berlin, October 17-25
Aside of the world's most important automobile exposition, the IAA held at Frankfurt every two years, Germany has another important biennial automotive exhibition: the "Allgemeine Automobil-Ausstellung" (or in short: "aaa"), which is hosted at Germany's capital Berlin. In 1998, the aaa was held at the Berlin exposition area between October 17 and 25.
Michael Schumacher's engagement with Ferrari in Formula One has generated a widespread interest in Ferrari in Germany; this and Enzo Ferrari's 100th birthday were the reasons which lead the Berlin exposition managers to the idea to reserve one of the many halls (78.133 square meters in total) for the marque of the prancing horse. Ferrari Deutschland GmbH of Wiesbaden, the factory subsidiary German importer, did present not only the current model range, but also a selection of famous classic examples and Formula One cars.
The display was arranged in hall 7.2 and covered more than 1.000 square meters – the entire hall, actually. Ferrari Deutschland's huge transporter which is normally used to carry equipment and staff to F355 Challenge events had been parked in the hall to serve as some sort of "barrier" to separate a small corner from the accessible area in which one could talk to the sales staff and where refreshments were offered to customers, future customers and special friends of the marque. Information and advise could be obtained firstly by the staff of "Mellin Sportwagen", Berlin's franchised Ferrari dealer, but some of the other German Ferrari dealers showed up at the stand as well. In a much smaller adjacent hall Ferrari Deutschland had established their memorabilia- and accessories shop offering Ferrari items affordable for everyone.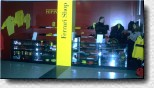 Since Ferrari's takeover of Maserati, Ferrari Deutschland GmbH has also become the German Maserati importer; hence there was a small display of Maserati cars as well. There one did celebrate the German debut of the brand new 3200 GT, Maserati's new sports coupe that has had its world premier at the recent Paris Motor Show.
The "Ferrari hall" was divided into four displays (plus the separate Maserati stand). The center stand did of course feature three cars of the current model range: a yellow 355 F1 spider, a black 550 Maranello and a 456 M GT in Titanium grey metallic.
Another display consisted of several classic models: The oldest car was Peter Andersen's small 195 Inter Coupé Vignale (s/n 0097S), followed by Fritz Grashei's rare and much more impressive 860 Monza Spider Scaglietti, s/n 0602M.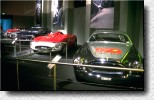 Gerhard Schwing had brought his immaculate 250 GT California Spider SWB s/n 2891GT to Berlin, a silvergrey example that is quite popular since it was color pictured in Antoine Prunet's famous book on Ferrari road cars (then owned by Ado Vallaster from Switzerland).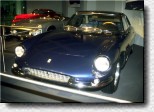 Matthias Ficht from Munich had taken his 500 Superfast s/n 8253SF out of his garage – this is probably one of the rarest Ferrari types to be shown at an exposition in our days. The latest car on this stand was Günter Kolb's 1966 275 GTB/6C Longnose s/n 08541.
A third display was dedicated to Ferrari's "super models" of the 1980's and 1990's: 288 GTO, F40 and F50. All cars had come from Bernhard Dransmann's collection and of course they proved as real crowd-stoppers since the F40 and the F50 are probably Ferrari's most famous models from the normal exposition visitor's point of view.
The fourth and last stand showed some pieces of Ferrari's long and successful motor racing history: Jo Vonlanthen's 1954 500 Formula 2 s/n 54/1, Peter Gläsel's 312 PB s/n 0882 and Fritz Grashei's F310 Formula 1 s/n 171; the latter – Michael Schumacher's 1996 car – has an excellent pedigree, including two 1st positions at Spa-Francorchamps and Monza, 2nd at Suzuka and 3rd at Estoril!
The atmosphere in the darkened hall was fantastic, particularly due to classic Italian music surrounding the spectator and effectual settings of spot lights. Hall 7.2 proved undoubtedly has the highlight of the 1998 AAA – not only for dyed-in-the-wool Ferrari enthusiasts.
Andreas Birner