Ferrari Racing Days at MOTOPARK Oschersleben 1998
A preview by Andreas Birner
April 6, 1998
In summer 1997, a new circuit was opened in Germany near the town of Oschersleben, located in the federal state of Sachsen-Anhalt in eastern Germany which was formerly a part of the German Democratic Republic: The MOTOPARK Oschersleben
Naturally, both the track - which is about 3,7 kilometers long - and the paddock are very up to date, probably the most modern circuit in Europe. A separate, MOTOPARK-owned hotel ("Hotel Motopark") was built adjacent to the track, and the modern grandstands have a capacity of more than 80.000 spectators.
All these facts lead the official German Ferrari-importer, Ferrari Deutschland Ltd., a subsidiary to Ferrari SpA, to host the third "Ferrari Racing Days" at the MOTOPARK instead of the Nürburgring which had been the site of this spectacular event in 1996 and 1997. The 1998 Racing Days will take place on the weekend of Friday, July 3 to Sunday, July 5.
The first important Ferrari-event hosted in the eastern part of Germany will surely become a "must" for the Ferraristi: There will not only be the races in three series of the F355 Challenge (European sections "Central", "West" and "South"), but also demonstration runs with classic and contemporary Formula 1 cars. Gentleman drivers will have the opportunity to move their street Ferrari in pure racing atmosphere in a regularity run. Of course, the number of entries to this run is limited. Another special program was created for the owners of classic Ferrari cars, who have even been invited separately and personally to the event by the German importer. Both on Saturday and Sunday, there will be a cavalcade around the circuit by the classic cars, and probably a special parking area.
Ferrari-drivers will be offered an interesting program around the circuit: There will be a VIP-area in the paddock providing first class catering on Saturday and Sunday. Even a special ladies' program has been worked out including sightseeing-trips to nearby Halberstadt and Wernigerode. But none of the female Ferraristi should miss the Sunday because the "Ladies' Go-Cart Grand Prix" will be hosted at the MOTOPARK go-cart track.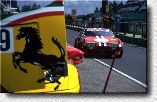 Saturday evening will see gala-events at both the Hotel Motopark (which has been reserved exclusively for the Challenge-drivers) and the Hotel Maritim in nearby Magdeburg. The latter has been chosen as the official hotel for all Ferraristi. A shuttle-transfer will be established to the Hotel Maritim allowing the owners to leave their cars at the secured MOTOPARK-area.
This interesting event will for sure attract a big number of Ferrari-enthusiasts with their cars, and the number of spectators will probably be quite remarkable as well. The prices of the tickets for normal spectators will be from 10,-DM on Friday and 30,-DM on Sunday, a ticket for the entire weekend will be available at 40,-DM.
For further information, please contact:

MOTOPARK Veranstaltungs GmbH

- "Ferrari Racing Days" -

Anderslebener Strasse 72

D-39387 Oschersleben

Ticket Hotline Spectators: +49 / (0)1805 / 5007

Telephone MOTOPARK: +49 / (0)3949 / 920-0

Information Hotline for Ferrari-owners: +49 / (0)3949 / 920-511

Fax: +49 / (0)3949 / 920-512