Ferrari at the Techno Classica 1998
April 2, 1998
Europe's most important exhibition for classic cars, the "Techno Classica", took again place at Essen in the time between April 1 and 5, 1998. In the recent ten years, the show has become very important for the European classic car business and always attracts many dealers who bring some fine machinery to the 14 exposition halls providing 70.000 square meters to display hundreds of cars.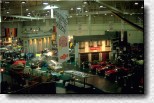 Ferrari have always been present at the Techno Classica in recent years. In 1996, Ferrari had even been the featured marque. In 1998, German sports cars were to be the special feature, and so it is just natural that there were not as many Ferrari on display as in the years before.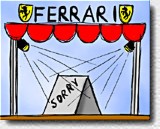 Not even one competition Ferrari on display
Sold out ?
The highlights of the show were two 250 GT SWB Berlinettas displayed by Axel Schütte of Oerlinghausen/Germany. One was s/n 2283GT, a dark green car with a black stripe that had just been imported from France where it had spent all of its life in Avignon in the very southern part of the country. s/n 2283GT is in completely original condition, except a trailer coupling (!) which had been installed by one of the three foregoing French owners. It was reported as sold to someone in Germany.
The other car was s/n 3073GT, a Swiss-owned car in red. The asking price for this Ferrari was about 1.300.000,-DM, which is remarkably high for a steel-bodied example.
Waldemar Glasman, a specialist dealer for cars of British provenance from Bühlertann in Germany, brought a 250 GT Coupé Pininfarina s/n 1935GT to Essen. The dark red car was priced at 97.000,-DM.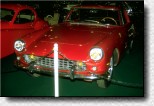 Coys of Kensington were also present, their display including a 250 TR58 Spider Scaglietti replica. This fake is based on the chassis of a 250 GT Coupé Ellena, s/n 0877GT.
Herbert Engel, a long-time specialist for all kind of exotic cars from Andernach/Germany, showed up with one of three existing 365 GT "NART" Spyders. These cars are based on 365 GTs (Engel's one being s/n 12605) which were rebodied with a weird spyder-body in Italy following an idea by Luigi Chinetti, Jr. However, although the styling may be considered as a matter of taste, the 399.000,- German Marks necessary to buy this car are certainly too much.
Lothar Roder, a classic car dealer of Saarbrücken/Germany, displayed three Ferrari: A 275 GTS s/n 07861, a Dino 246 GTS s/n 04206 and a 512 BBi s/n 45735. The Dino had been purchased out of the famous Dürst collection in Switzerland during a Coys of Kensington auction at Silverstone in July 1997.
Two 365 GTB/4s could be seen as well, one being s/n 14131 brought by a Belgian dealer, while the other one was displayed by Auto Becker of Düsseldorf/Germany. The latter, dark blue Daytona s/n 16981 has already been on offer by Auto Becker for more than a year although it is beautifully restored.
The only remaining Ferrari which are worth to be mentioned separately are two other Dino 246 GTs; one could be admired on the stand of Top Cars Ltd., a local dealer from Essen, and the over one had been brought to the Techno Classica by "Casey's Classics", a dealer based in Sliedrecht in the Netherlands. The latter car was a very early example equipped with knock-off wheels.
Of course, there were several contemporary Ferrari on show as well, but the verdict of my trip to the Techno Classica is the following: The market for rare and high quality Ferrari cars is obviously empty, or it is at least not necessary for the sellers to take special examples of the marque to expositions to get them sold. The fact that there was not even one competition Ferrari on display is remarkable, and the desirable street-models like 250 GT Lusso or 275 GTB/GTB/4 were missing as well. So, if you wish to purchase a very special Ferrari, keep your eyes open and do not hesitate for too long if you finally have the occasion to hammer a deal!
Andreas Birner