- Ferrari Shell Historical Challenge, 3rd & 4th heat -
Nürburgring, July 4-6, 1997
There's an old man standing In the paddock of the Nürburgring who holds a tiny piece of metal in his hands. The elderly man is David Piper, and he tells the crowd surrounding him that this little part once belonged to the waterpump of his 330 P2 for more than 30 years. On July 6, 1997, it broke.
Without any cooling for its engine, David Piper drove the 330 P2 into the pits immediately - and of course, for him this was the end of the third heat in the 1997 Ferrari Shell Historical Challenge.
On the first weekend in July, the racing series for old Ferrari race-cars attended the 2nd Ferrari Racing Days at the Nürburgring which were - again - hosted by the German importer, Ferrari Deutschland Ltd.
Naturally, the second edition of this event was not of that importance than in 1996 when the 550 Maranello's world-premiere had been celebrated at the Nürburgring. This year, there was no model premiere, and there was no Michael Schumacher who did some laps in an F1-Ferrari. But this did by no means keep the friends of historic Ferrari from coming to the Eifel for a second time.
Compared to the 1st and 2nd heat of the Historical Challenge at Monza two months ago, the field of participants had remained basically unchanged.
The well-known Swiss collector Engelbert Stieger had brought his 312 PB (s/n 0888); this car had taken Jacky Ickx and Brian Redman to a glorious 1st in the 1973 ADAC 1000km of the Nürburgring, the last of seven wins for Ferrari in this popular and traditional race.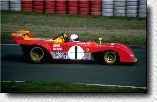 Stieger's son Christoph piloted the car 24 years after its victory and placed 2nd behind his brother Patrick who drove his father's 512 M s/n 1018.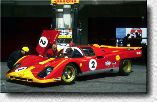 Thus it was a successful weekend for the Stieger-family, and they could take home some new cups to find a new home in Engelbert Stieger's private museum called "Turning Wheels Collection" in St. Gallen where he displays some 30 Ferrari.
Peter Hardman may have felt as happy as the Stieger brothers since the 1996 champion of the Ferrari Shell Historical Challenge took the lead in the overall ranking of the Challenge after the 4th heat on Sunday. The professional driver, who had been active in the last year in the USA Super-Touring-Car Trophy, again proved his abilities and chased the 330 LMB s/n 4381SA around the circuit with an average speed of 131,108 km/h, which meant that he was not remarkably slower than the Stieger brothers in their much younger and mid-engined 512 M and 312 PB sportscars.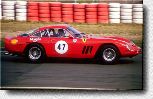 For some German drivers, the event could be well regarded as a home match since many of the pilots live in an area of approximately 150 kms distance from the Nürburgring. For example, the multiple 348/F355 Challenge champion Bernd Hahne of Krefeld. In the Historical Challenge, he drove his 166 MM/53 s/n 0264M.
The little car now looks like a Barchetta by Touring, but it had been originally one of three spyders bodied by Ferrari (instead of Allemano, Touring, Farina or Vignale who had been the major producers of bodies in Ferrari's early era) using a design by Dino Ferrari. After s/n 0264M had been abandoned in a shed in Switzerland for years, it was acquired in the 1970's by a famous French collector who decided to restore it with a Barchetta-body (which the little Ferrari indeed never had up to that time); the work was done by Fantuzzi in Italy.
Another German collector living in Düsseldorf (in about 150 kms distance to the "Ring"...) is Hartmut Ibing. The long-time Ferrarista brought out his rarely seen 250 MM Berlinetta Pinin Farina s/n 0298MM. For the Challenge, Ibing handed it over to Udo Rüttcher of Aachen (located in about 70 kms distance...). s/n 0298MM is in a very original state, a fact that provides the car with a very personal charm compared to some of its hyper-restored sisters and brothers.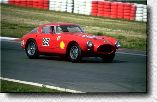 Count Hermann Hatzfeld-Wildenburg from Wissen drove about 100 kms to the Nürburgring in his 250 GT LWB Berlinetta Scaglietti "TdF" s/n 0971GT. His car had been repainted from red to black some years ago, a livery rarely seen on an old competition-Ferrari. Back in its youth in the very late 1950's, s/n 0971GT had spent some time in Jacques Swaters' Ecurie Francorchamps in Belgium. In 1958, André Pilette and Jojo Berger drove it to 9th in the 1000 kms of Paris at Montlhéry.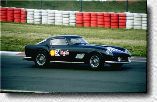 One German participant who up to that time had attended nearly every event of the Ferrari Shell Historical Challenge was missing this time: Walter Schäfer from Hainburg. His 250 GT-powered 500 TR Spider Scaglietti s/n 0636MDTR had been stolen in Maranello after Ferrari's 50th anniversary celebration.