57th "Tour Auto"
April 14-18, 1998
Pictures will be added during last week of April
A new name for the "Tour de France Auto"
The "Tour Auto"
38 Ferrari in the 1998 "Tour Auto"
A remarkable turnout of 250 GTs
More Ferrari in the "Tour"
The most spectacular Ferrari?
Tour Auto 1999
France's major event for historic motor racing, the "Tour de France Auto", has been renamed "Tour Auto" this year, but although the name has changed, its attractiveness remains unchanged for automotive enthusiasts around the globe.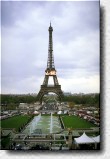 The "Tour de France Auto", which took place as a major European event for road racing for the last time in 1986, had been revived in the 1990's by Patrick Peter of Paris. Likewise as in the Mille Miglia Storica, a car is eligible for the "Tour Auto" if the very car or an identical model did once participate in the Tour de France between 1951 and 1973. But sometimes the organizers make exceptions for cars which did start in the TDF after 1973 if the car in question really is the very car that did particpate years ago. An example for this way of proceeding is François Entremont's Michelotto-prepared and "Tour de France"-approved Ferrari 308 GTB, a regular contestant in the Tour.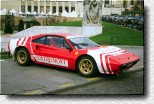 The field of participants is divided into two categories: There's one so-called "racing" category for the fastest and most ambitious pilots, and a "regularity" category for all the gentleman drivers who prefer to absolve the several stages in a preset time and in a more constant way rather than running their cars at the limit. Most of the some 220 participants run in the latter category. The route of the "Tour" differs from year to year; in 1998, it lead the contestants from Paris via Dijon, Annecy and Vichy to La Rochelle.
Ferrari is one of the most popular marques in the Tour; no less than 38 examples were entered in the 1998 edition of the event. The oldest Ferrari among them was the little 166 MM Barchetta Touring s/n 0034M of Juan Quintano, the Spanish Ferrari-importer by trade.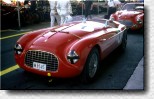 Another very old Ferrari had been brought to France from Wisconsin: 166 Inter Berlinetta Vignale s/n 0071S, driven by Stephen Dudley. This small blue Ferrari is extremely original and has a nice patina.
The 250 GT-family always shows up with many members in the Tour: Mark Finburgh from London drove his 250 Europa GT s/n 0375GT, and Jon Masterson from California competed in his newly acquired 1956 250 GT LWB Berlinetta Scaglietti "Tour de France" s/n 0585GT. This car is registered on the more than just adequate California license plate "MY 56 TDF". Mr. Masterson was co-piloted by long-time Ferrarista P. Paul Pappalardo.
Jean-Claude Bajol from Toulouse/France and David Webb from the U.S. brought their "TdF"s as well.
Rarely seen is Bernard Consten's 250 GT LWB Berlinetta Interim s/n 1509GT. This white Ferrari is one of seven 250 GT LWB Berlinettas which were produced shortly before the end of the production of the long chassis 250 GTs and which already sported a Scaglietti-made body very similar to the design of the forthcoming short chassis 250 GTs. Six of these rare Interim cars remain in our days.
Nine examples of the above mentioned 250 GT "Short Wheelbase" Berlinetta were present at the start of the "Tour Auto" in Paris: Jean Sage, Lord Cowdray (a.k.a. Michael Pearson) and a Mr. Haquette from France brought their alloy-bodied Competition Berlinettas (Lord Cowdray's example being one of the so-called "SEFAC Hot Rods", a 250 GT SWB Competizione with a special high-output engine), while the six other cars were steel-bodied examples. There was even a ladies' team among the SWB-equipes: Christine Laidlaw and Pat Woollett shared s/n 2669GT, while Mr. Irvine Laidlaw drove a Porsche 904 GTS.
The SWB's successor, the 250 GTO, could be seen in the Tour as well: Nicolas Springer, a German living in Switzerland, brought is s/n 4153GT, and Paul Vestey from England showed up in his s/n 4115GT. Springer's car used to be in a silvergrey livery with a "French" band of blue, white and red ranging from the front to the tail of the car. Now, the French "Tricolore" has been replaced by a broad yellow band on the car's hood, a reminiscence to s/n 4153GT's former glory as a car of Jacques Swaters' Belgian "Ecurie Francorchamps". In fact, this very car sported this very livery during the 1964 "Tour de France Auto", being driven by Lucien Bianchi and Jojo Berger.
In 1998, there was only one 250 LM entered in the Tour: s/n 6051, driven by Charles Arnott from Maryland. His co-pilot was Bill Noon of Symbolic Motor Cars in La Jolla, CA/USA.
To make the turnout of the 250 GT-family nearly complete, two 250 GT Lusso were present as well. Car dealer Paul Osborne from England brought a red one (s/n 5031GT), while Ralph Bruggmann from Switzerland competed in his s/n 4965GT which is held in the lovely color-combination of silvergrey metallic with a red interior.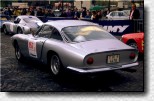 In 1965, Ferrari produced a small "series" of twelve 275 GTB Competizione, based on the 275 GTB/2 Shortnose. Two of these rare Ferrari were among the contesting cars: José M. Albuquerque from Portugal brought his s/n 07271, and Mohammed Syed showed his s/n 07517 in public for the first time. The Tokyo-resident Pakistani bought this car in Germany in late 1997. s/n 07517 had been completely restored in Switzerland during the ownership of a Swiss collector; this collector decided to replace the car's original short nose by a longer one because he preferred the latter's design.
In 1966, Ferrari produced a second series of (again) twelve 275 GTB/C, based on the 275 GTB/2 Longnose. Two of these cars took part in the 1998 Tour Auto: William Ma from Hong Kong drove his s/n 09067, and Anil Thadani, a UK-resident Indian, participated with s/n 09085. Naturally, several "normal" 275 GTB/2s and 275 GTB/4s were present as well. A 275 GTB/2 Longnose, s/n 08955, had even been brought to France from Columbia, although registered in Florida.
The probably most spectacular Ferrari in this year's Tour was the 512 S Spider s/n 1016 of Brandon Wang from Hong Kong. The well-known England-resident Ferrari-collector had handed over the steering wheel of his latest acquisition to professional driver Gary Pearson. It was quite a thrill to watch him piloting this beast across the often narrow and always crowded streets of Paris. Pearson's run on the circuit of Montlhéry in the outskirts of Paris was sensational as well, especially when he steered the 512 S through the track's famous banking. Since this car had slumbered in a collection in the southeastern USA for a number of years, it was obviously quite happy to be moved in an adequate way again after this long time of absence from the track.
A little less spectacular, but nearly as noisy as the 512 S were the two 365 GTB/4 Daytona Competizione which were entered in the Tour: Sally and Dudley Mason-Styrron once again competed in their ex-Maranello Concessionaires s/n 15681, and François Degand drove his yellow s/n 16717, a former Ecurie Francorchamps car.
The list of the 220 participants always reads like a "who-is-who" of the Ferrari world, although not all of the well-known Ferraristi listed did actually participate in a Ferrari. For example, Harry Leventis drove an Aston Martin DB4 GT Zagato, Burkhard von Schenk and Manfred Rimböck were seen in a Maserati A6 GCS, Peter Gläsel started in his Porsche 356 B Carrera Abarth GTL and even the noted author Antoine Prunet took part in a Lotus Elite. Celebrity participants included the famous German rallye-pilot Walter Röhrl (driving Friedrich-Wilhelm Dauphin's Porsche 356 A Speedster 1600 GS) and the comedian and actor Rowan Atkinson, probably better known as "Mr. Bean". The Englishman steered an AC Ace Bristol.
For information about the 1999 edition of the "Tour Auto", please contact Sylviane Peter or Agnès Kaiser at
Peter Auto

103, rue Lamarck

F-75018 Paris

Tel.: +33 / (0)1 / 42 59 73 40

Fax: +33 / (0)1 / 42 59 48 28
Andreas Birner