Uwe Meissner's Formula 1 Festival
Nürburgring, July 2-3, 1997
Altauto-Recycling einmal anders
In recent years, it has become usual at the Scuderia Ferrari to sell the F1-cars of the past season to selected private customers. Well, not all F1s change hands at the end of a season, but compared to other teams in the Formula 1, the number of cars and chassis sold by Ferrari's Scuderia is remarkable.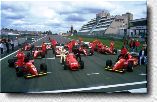 After having become the proud owner of one of Ferrari's former warhorses, many Ferraristi ask themselves: "Well, what can I do with my F1 now?" Some of them are willing to spend much money for an F1-Ferrari just to have one on display in a garage or in the living room. However, numerous customers want more: they want to race their cars. But the possibilities to drive or even to campaign an old F1 are rare; the European Historic Formula 1 Championship, which is an FIA-event, does not provide a solution since it is only eligible for F1s built prior to 1984.
Der letzte noch verbliebene Ausweg ist eine geeignete Rennstrecke zu mieten. Weil das aber gar nicht so einfach ist, sind die Besitzer der ausgedienten Renner meist froh, eine geeignete Fahrgelegenheit geboten zu bekommen.
So geschehen am 2. und 3. Juli 1997 auf dem Nürburgring. Modena Motorsport, eine auf den Service von Ferrari, anderen italienischen Sportwagen und auf Formel 1 spezialisierte Werkstatt aus Langenfeld bei Düsseldorf, hatte es zum vierten Mal geschafft, den Eifel-Kurs im Hochsommer zu bekommen.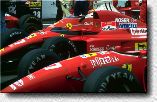 Thus, the only possibility for the ambitious F1-Ferrari owner to play with his expensive toy is to rent a racetrack. Since this is not that easy (and not cheap), the F1-owners are happy if someone offers them an occasion to use their cars.
Well, in 1997, this someone was named Uwe Meissner, unauthorized Ferrari-dealer by trade and one of a very few persons (if not the only one) in Germany who take(s) care of old F1-Ferrari. His firm Modena Motorsport Ltd., situated in Langenfeld between Düsseldorf and Cologne, had reserved the Nürburgring for its customers and friends on July 2 and 3, 1997. This was already the fourth year in a row in which Uwe Meissner hosted his private event on the famous circuit in the Eifel mountains, but it was the first time that he could provide his guests with two full days of track-time.
Sagenumwobene Geschichten und Rennfahrer-Prominenz
And the turnout of F1-Ferrari was sensational! No less than 14 cars had been brought to the Nürburgring, mainly consisting of cars of the "post-Turbo era" like 643, F93 A, 412 T and 412 T2, formerly driven by Alain Prost, Jean Alesi and Gerhard Berger.
A famous German brewery sponsored the event (this was also the reason for which it could last two days instead of one for the first time).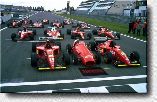 The oldest car was the 500 Formula 2 from 1954, #54/1, owned by the former Swiss racer Jo Vonlanthen. In 1954, the car had been sold by Ferrari to the French privateer Robert Manzon.
In 1953, this chassis - using another serial number - had been the works-car for Alberto Ascari who eventually won the championship. But since SEFAC did not make notes about which car was used for which race, one does not exactly know in which events Ascari drove this car.
The other very old Ferrari present at the Ring was 625 Argentina Formula 1 #0540. In regard to its history, one does only know for sure that it was sold new by the factory to the Spanish aristocratic privateer Alfonso de Portago. Completely restored, it is now part of a German collection.
On the second day, the former German F1-pilot Jochen Mass took the wheel of Vonlanthen's 500 F2. He was not the only celebrity in attendance: Bernd Schneider, German touring-car driver and former F1-pilot for Zakspeed, and Emanuele Pirro, also a former F1-driver and today successful touring-car pilot for Audi, had come to the event.
Die siebziger Jahre und ein Lotterie-Gewinn
A 312 B2, brought by Helmut Gossens from Krefeld, has a special relationship to the Nürburgring: Jacky Ickx drove this car (#005) to 1st in the 1972 German Grand Prix.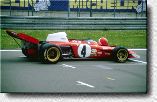 In 1995 and 1996, this car had been driven during Uwe Meissner's event by Ickx again, this year the Belgian could not come for personal reasons.
While turbo-powered F1-Ferrari were missing, the 1970's were very well represented in the field of participants: Swiss collector Engelbert E. Stieger brought his 312 T (#026) and his 312 T4 (#038), driven by his sons Patrick and Christoph.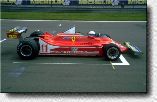 The T4 had been piloted in 1979 by Jody Scheckter - the South African became world-champion that year, although he did not win a race in this very car. Italian collector Enrico Comerio showed up with his 312 T3 (036), an ex-Villeneuve car.
Uwe Meissner himself drove an F93 A, formerly used by Jean Alesi. An interesting story is related to this car (#145): It had once been a special price in an Italian lottery! A retired worker won the car, but felt too old to drive the car personally, and so he decided to sell it on.
Freier Auslauf für die ZuschauerAfter the tremendous success Uwe Meissner had with his great event, there will probably be a fifth edition in 1998. And not only the participants, but also the spectators will be very pleased again, because for the latter there was no fee to pay, nor was the paddock closed, nor was it forbidden to enter the pits. Pure Formula 1 action - unique in Germany!