Uwe Meissner's Formula 1 Festival
more pictures in August
Nürburgring, July 1-2, 1998
The independent Ferrari-workshop "Modena Motorsport Ltd." of Langenfeld near Cologne is Germany's only facility to take care of privately owned Formula 1 cars. Since 1994, owner Uwe Meissner has hosted an annual track day at the Nürburgring. This year, the event took place on July 1st and 2nd and was sponsored for the first time by Wolf Garten Ltd. of Betzdorf/Germany, a leading manufacturer of gardening equipment, lawn mowers etc.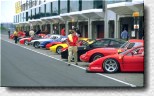 Not less than 15 Ferrari Formula 1 cars were in attendance. The oldest among them was the 312 B2 s/n 005 of Helmut Gossens. Back in 1972, Jacky Ickx had won the German Grand Prix on the Nürburgring in this very car, and a year earlier Clay Regazzoni had succeeded in the Race of Champions a Brands Hatch with s/n 005.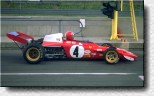 The collector from Krefeld also presented his 312 T2 s/n 027 which has a remarkable racing pedigree with Clay Regazzoni and Gilles Villeneuve. Austro-Swiss collector Leopold Hrobsky had brought three F1-cars to the Eifel mountains: a 312 B3 s/n 012, a 312 T s/n 024 and a 643 s/n 130.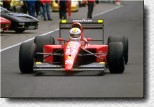 Also from Switzerland: an F1/86 s/n 094, one of the extremely difficult to maintain cars from the turbo era. S/n 094 was driven by racer Jo Vonlanthen who also runs an F1 rental service near Lugano in Switzerland. In 1986, this car had taken Stefan Johansson to a 3rd position in the Australian Grand Prix. Jo Vonlanthen could only do some relatively slow laps on the Nürburgring prior to being stopped by some technical problems which are so common among the turbo cars.
German F1-collector Michael Gabel from Berlin had three cars out: the ex-Mansell 641/2 s/n 120, his F92 A s/n 133 and his latest acquisition, an F310 B s/n 176. The extremely difficult to handle Mansell car was piloted by Uwe Meissner, although he had his own F93 A s/n 145 at the track, too. The 641/2 is so hard to drive because it is the first F1 Ferrari to have been equipped with a pedal shifting system, but one still has to use the clutch (while today's cars have an automatic clutch).
Unfortunately, Michael Gabel's F310 B and his former 412 T2 s/n 163, now owned by a Puerto Rican, collided on the track, slightly damaging each other's suspension. So, the Ferrarista from Berlin continued the day in his aforementioned F92 A, while sports fashion designer Freddy Plangger had out his identical car, s/n 131.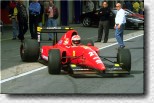 In the paddock, there was a second F93 A on display as well. S/n 139 is owned by Wolf Garten Ltd. and is a display car only. It had been driven for the last time by Gerhard Berger in October 1993 during the "Tutte le Ferrari in Pista" event at Mugello before some mechanical components had been removed to make the car become a static display.
Other entrants included Enrico Comerio from Italy in an 312 T3 s/n 036, ex-Reutemann and ex-Villeneuve and German Martin Huff with a 642 s/n 124.
Modena Motorsport had some non-F1 cars at the event as well, especially since there was also a special person to drive them: Jacky Ickx had been invited again and enjoyed rides in the 312 PB s/n 0886 (which he had already driven for Modena Ltd. in the Ferrari Shell Historical Challenge at Spa-Francorchamps) and a 512 M replica stamped s/n 1034.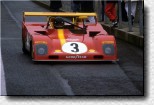 The latter had been resurrected from the ashes in the early 1990's: In 1970, s/n 1034 (then a factory 512 S in coda lunga configuration) had been completely destroyed at Le Mans.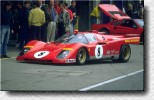 Together with ProTrade Ltd. of Hamburg, one also presented the unique 250 Europa GT Berlinetta Speciale s/n 0403GT, a 250 GT Coupé Boano s/n 0569GT, a 250 GT LWB Berlinetta Scaglietti TdF s/n 1037GT and an F40 LM s/n 88522; when new, the latter car had been owned by Albert Uderzo, the father of the "Asterix" comics. At the track day, free rides in the spectacular car were offered to fearless passengers. Also owned by ProTrade: a 250 GTO '62 recreation based on 250 GTE s/n 3839GT.
Clients and friends of Uwe Meissner had brought some interesting cars as well: There were two 250 GT SWB Berlinettas s/n 3565GT of Wolfgang Techel and s/n 3639GT of Karl-Gustav Diederichs, a 250 GT Lusso s/n 4429GT, a 250 GTE s/n 4515GT, a 275 GTB/2 Shortnose s/n 06785, owned by Gregor Wolf, the chairman of Wolf Garten Ltd. and a 365 GTC.
A very crazy car is the 365 GT4 2+2 s/n 18559 owned by a jeweller from Essen: this car has been rebodied with a body coming from a 250 GTE! Many drivers of other Ferrari from the 1960's wondered about this GTE's performance...
Verdict: All participants enjoyed one or even two nice days with much, much track time. Uwe Meissner will host a similar event again in 1999.