The 1998 Mille Miglia Storica did attract 39 Ferrari-teams among a total turnout of 358 cars. Many of them were regular and hence well-known participants, e. g. the famous 166/212 Coupé Reggiani "Uovo" ("Egg") s/n 024MB or the 250 MM Spider Vignale Series II s/n 0276M, which unfortunately is a complete rebuild.
But there were also some Ferrari which are seen more rarely or that were indeed competing in the "Mille" for the very first time. Some of them should be mentioned separately in this article while the total number of the Ferrari entered in this event is too high to mention each individual car.
German car-dealer Axel Urban from Hamburg drove his 225 Inter Coupé Vignale s/n 0223EL; unfortunately, the car which had been located in France for quite a number of years dropped out of the race later, due to technical problems.
Gary Pearson, the well-known historic racer from England, piloted the dark metallic blue 212 Export Barchetta Touring s/n 0084E, owned by German Collector. Pearson's co-pilot was the famous photographer Rainer Schlegelmilch, who was preparing an article about the Mille Miglia Storica for the German magazine Focus. Some of his great shots can be admired on this website, too!

Of course, there were again several competitors from Japan, including Mr. Yamano in his rare 212 Inter Coupé s/n 0137EL which was bodied by the Swiss coachworkers of Ghia Aigle (not related to the famous Italian "Ghia" design branch now owned by Ford who did body many early Ferrari cars as well).
Collector Ralph Bruggmann from Switzerland brought his flamboyantly bodied 212 Inter Coupé Vignale s/n 0287EU. Another nice, but less extraordinary Ferrari clothed by Vignale was the 212 Export Berlinetta s/n 0080E owned by Pablo Gonzales from Mexico; Gonzales is a regular contestant in the Mille Miglia, as is his restorer, Steve Tillack from California.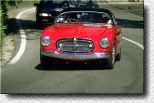 Tillack piloted the 340 America Berlinetta Touring s/n 0126A. A second 340 America had come to Italy from Belgium: Ennio Gianaroli's Touring Barchetta s/n 0116A. Obviously this car has been restored recently for it is now painted red while it used to be yellow for many years.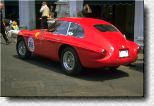 A total restoration had been performed on another Ferrari from the U.S.: The 166 MM/53 Spider Vignale s/n 0290M. The condition of this car is breathtaking, thanks to restorer Wayne Obry who co-piloted the car in this event.
Four 225 S Vignale Spider Series I had been entered in the '98 "Mille", two of them coming from France: s/n 0192ET is owned by Olivier Cazalières from Paris and s/n 0172ET had been brought by Xavier Beaumartin from Bordeaux. The latter car is powered by an engine coming from 250 GT Coupé Ellena s/n 0869GT.
A very old Ferrari to participate in this year's Mille Miglia was the 195 S Coupé Touring s/n 0085S of Yoji Oyama from Japan. This car, too, was subject to a sensational ground-up restoration and is painted in the lovely combination of dark blue with a silver-gray top and fitted with a red leather interior. In recent years, Mr. Oyama did absolve the 1000 miles drive in his 166 MM Barchetta Touring s/n 0038M.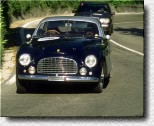 Two 250 MM Berlinetta Pinin Farina were among the Ferrari as well: Ron Finger from the USA brought his s/n 0250M which features covered headlights, while s/n 0298M of German collector Hartmut Ibing has open headlights.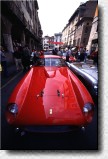 Bill Serri from New Jersey drove his rare 250 Monza Spider Scaglietti s/n 0442M, and Bill Noon of Symbolic Motor Cars took the wheel of Charles Arnott's 500 TR s/n 0652MDTR which is fitted with a V12-engine coming from a Ferrari 250 GT.
Audi's touring car pilot Emanuele Pirro and his wife Marlene did compete in the dramatic 375 MM Spider Pinin Farina s/n 0376AM.
Pirro did perform outstandingly in his second Mille Miglia entry (he did already participate in 1996): For a while, he was running on 27th position and became 39th in the end, which is quite remarkable. Emanuele Pirro's father Franco shared his son's passion being the co-pilot in 250 GT LWB Berlinetta Scaglietti TdF s/n 0925GT which was steered by Kevin Jones of DK Engineering.
Unfortunately, the "Mille" was overshadowed by at least one accident involving a Ferrari: Jon Masterson's perfectly restored 1956 250 GT LWB Berlinetta Scaglietti TdF s/n 0585GT was damaged badly in a crash. According to our knowledge, no other of the participating Ferrari has become the victim of a severe damage this year.
Despite of this incident, the Mille Miglia Storica did again provide much fun to both the contestants and a million spectators. The event seems to be especially popular among German motoring enthusiasts since there were so many Germans who brought their collector's cars to Italy to accompany the participants in an "adequate" way. Many Ferrari not part of the event could be seen en route as well.
The weather was gorgeous, warm and sunny this year, although it did rain heavily during both the start and the arrival at Brescia, and the crowds were as ecstatic as usual.
Although some of the Ferrari did not make it to the finish due to technical problem this year, the majority of the competitors is likely to be seen again in the 1999 Mille Miglia Storica.
Text Andreas Birner

More Ferraris ?
Mille Miglia Storica; Via Cassala 60; I-25126 Brescia; Italy;
Tel.: +39/(0)30/28 00 36;
Fax: +39/(0)30/48093