Ferrari at the
AvD Oldtimer Grand Prix
Nürburgring, August 7-9, 1998
Germany's most important event in historic motor racing, the Oldtimer Grand Prix hosted by the Automobilclub von Deutschland (AvD), took place at the Nürburgring once again on the weekend of August 7 to 9. After some years in which the turnout of Ferrari at this event had been a little meager, the 1998 edition saw a more remarkable number of red cars in the paddock and on the track.
The German collector Dieter Streve-Mülhens had entered his 750 Monza s/n 0470M, while his son drove David Piper's 250 LM s/n 8165. The example owned by the well-known Brit is very likely to be the only one of its kind on this planet that is to rent.
French financial consultant Bernard Duc turned up with several cars from his collection, including the 250 GT LWB Berlinetta Scaglietti "Tour de France" s/n 1143GT and the 250 GT SWB Berlinetta s/n 3401GT.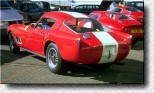 Interestingly, the latter's front grille had been changed since its last appearance during the Coys Historic Festival at Silverstone just some weeks ago. Likewise as in England, #3401GT was again driven by Franco Meiners. Also part of Duc's stable: a 250 GTE-based 250 GTO '62 Replica, built by David Piper.
Last but not least, Richard Chester from the UK participated in the race for pre-1974 Le Mans GT-cars in his 365 GTB/4 Daytona Competition Conversion, s/n 14321.
For many Ferraristi, inclusive yours truly, the undoubted star of the paddock was not a Ferrari, but an old Ferrari racecar transporte.
German collector Fritz Grashei presented his Fiat 642 RN2 truck from the late 1950's which provided a most adequate and very stylish way of transportation to Grashei's 860 Monza, s/n 0602M. This transporter had been owned by American Richard Freshman for some years prior to being sold to Clive Beecham in the UK. Grashei acquired this interesting piece of Ferrari history in 1997.
The meeting of the FCD has become a real Oldtimer Grand Prix institution since the 1980's. After the events in 1996 and 1997 had attracted less cars than in previous years, there were again between 300 and 400 Ferrari to be seen in the Kart Motodrom which is the traditional site of the gathering. As always, there were some remarkable rarities and other examples of particular interest among them.
Jürgen Rohwer drove his 250 GT Berlinetta Drogo down from Hamburg; the 250 GTE-based (engine# 2423GT) car sports - a replica body by Terry Hoyle - of the beautiful Drogo-built body that had been installed on Ulf Norinder's 250 GTO '62 s/n 3445GT in the 1960's. Since 1997, Rohwer had the car resprayed in a non-metallic blue.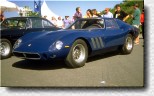 Siegfried Propfen from Hameln showed up in his immaculate 250 GT Lusso Prototype s/n 3849GT. This is the very first Lusso ever built. Unfortunately, there has been some confusion surrounding this car since Kurt Miska's book "The Berlinetta Lusso" erroneously identified Battista Pininfarina's one-off 250 GT Lusso s/n 4335GT as s/n 3849GT. Since Propfen bought his s/n 3849GT as a restoration project in pieces, he had it restored to the looks of Pininfarina's s/n 4335GT that featured many one-off details. Anyway, the car is gorgeous.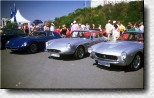 A very unusual Ferrari proved as crowd-stopper: a 330 GTC which had been converted to a spyder à la Lotus Super Seven by Willy Felber of Morges/Switzerland in the late 1970's or early 1980's. Felber was an authorized Ferrari dealer who created some strange one-offs together with the Italian designer Edgardo Michelotti. At least three of these 330 GTC-based "Felber Ferraris" were manufactured. The design was intended to resemble the 166 Spider Corsa, but is actually pretty weird and somehow ugly. However, just another matter of taste. The example present at the Nürburgring used the chassis of s/n 9107 and the engine 9879.
Another conversion was the "250 GT California Spider SWB" of dealer Herbert Engel. This replica was created using chassis and engine of a 365 GT 2+2, s/n 12313.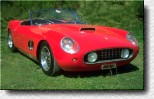 Not less than seven 365 GTB/4 Daytona showed up at the "Ring" as well, including two spyder conversion, both - incidentially - painted yellow. One of them, s/n 15449, was owned in the 1970's by the famous stuntman Evil Knivel in the USA. The story goes that one of his girl friends crashed the car in L.A.; the following extensive repairs were used to convert this Daytona into a spyder.
The range of classic Ferrari was completed by a remarkable number of Dino 246 GT and GTS.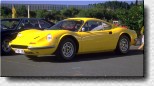 Andreas Birner