A visit to the Symbolic Motor Car Company
La Jolla, August 20, 1998
Many car-nut California tourists cruising down the La Jolla Boulevard in the identically named exclusive town near San Diego will notice the franchised Rolls-Royce dealership which is located at 7440 La Jolla Boulevard. Only a very few, particularly crazy car-nuts will stop-by to pay a visit to it - the British luxury cars are actually not that rare in this beautiful part of the world; one can virtually see loads of them in the streets, to be more exact. But if one really decides to visit the dealership to have a look at the well polished aristocratic automobiles, one will very soon become aware of the fact that there's a second showroom which is not visible from the road.
There one will find the stock of the world's leading dealer for historical Ferrari race- and sports cars: The Symbolic Motor Car Company.
The company of Bernie Chase, simply known as "Symbolic" or "SMC" by the insiders, has gained their leading position on the market during the last few years. There are virtually not too many sales of classic Ferrari racecars going on in the world without Symbolic being involved. Having such a remarkable flow of cars being bought and sold, it is just natural to have an impressive stock of classic cars. For normal visitors not having the intention and/or the means to buy one of the lovely machines, a visit to Symbolic resembles the visit to an automobile museum. The staff does welcome dyed-in-the-wool enthusiasts, and it is not necessary to look like a potential buyer to get access to the showroom. When I was staying in sunny California and paid a visit to Symbolic, I was by far not the only one admiring the automotive rarities.
There were so many interesting vehicles on display – one did not know where to go first! To me, the most interesting cars were two Dino 206 S, both of them preserved in completely untouched original condition.
The six-cylindered cars (s/n 0834 and s/n 018) had been sold by the factory in the 1960's to the Italian privateer Leandro Terra who entered them in many races. Instead of selling his cars after their racing careers for peanuts, Terra eventually decided to put them in storage. Symbolic spent much, much time (and probably much money, too...) during the last two years to talk the Italian into selling these two cars. A success not only for the Symbolic team, but also for the Ferrari fans: Now the long-lost cars will be seen regularly in public again at various events.
For any German tourist interested in Ferrari, the somehow less spectacular 500 TR s/n 0652MDTR was of particular interest: The German racing legend Wolfgang Graf Berghe von Trips did drive this very car in the Grand Prix of Cuba back in 1957.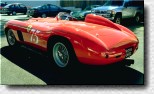 The well-informed visitor from Germany might remember the 250 GT LWB Berlinetta Scaglietti TdF s/n 1141GT and the 500 TRC s/n 0706MDTR: These two cars had spent a number of years in Germany prior to their sale to the U.S. not too long ago.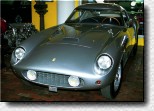 Symbolic's showroom does also house attractions for Ferraristi rather interested in modern cars than in classics: The 333 SP s/n 019 was on offer, the winning car of the 1998 24 Hours of Daytona and the 12 Hours of Sebring. Its owner and driver, Giampiero Moretti, had parted from this car after his long career had come to an adequate end. The sale to a collector will probably ensure the car's preservation in its original state, including the stickers of the technical scrutinizing.
Some years older, but definitely not less powerful is the 126 C4 Formula 1 s/n 074 that took Michele Alboreto to 1st in the 1984 Grand Prix of Belgium at Zolder. Also on display: 512 BBLM s/n 44023, Ferrari's early 1980's product for customers with motor racing ambitions.
By the way, wandering SMC's showroom one should not leave without having ascended the second floor; there one will not only find some pieces of automotive art (sculptures and paintings), but one will also have an impressive view over the showroom from a gallery.
Of course there are many, many more cars to see in Symbolic's premises apart from the ones mentioned in this article. And there's even more: Some miles away, the Symbolic Motor Car Company runs a shop where Rolls-Royce and Bentley cars are serviced and where Ferrari are restored. I was allowed to enter the workshop and was stunned immediately by a Ferrari 375 America (s/n 0337AL) with a unique Vignale body.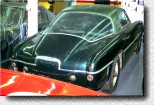 The car had spent decades in a barn and was now waiting for its urgently required restoration. Standing alongside were 342 America s/n 0234AL, sold new to King Leopold of Belgium, and the 410 Superamerica s/n 0713SA, an example with many one-off features. These two cars, too, were to undergo ground-up restorations.
Last but not least I would like to mention 512 M s/n 1044 that had been bought by Symbolic from the well-known Italian collector Fabrizio Violati.
The car is just another restoration project, but the mechanics do never work on too many cars at the same time, hence it might take a while until s/n 1044 is in race-ready condition. During my visit, 250 Europa GT Berlinetta Speciale s/n 0425GT was in the final stage of a restoration; this car is one of the prototypes for the 250 GT LWB Berlinetta "Tour de France".
To me, it's not easy to find the adequate words to close this article, because one cannot simply quote the opening hours of the museum and recommend a visit since Symbolic is "basically" a dealership and not a museum. But as mentioned earlier, dyed-in-the-wool enthusiasts and fans are welcome to enjoy the automotive highlights on display.
Text Gregor Schulz

Translation Andreas Birner