Tutte le Ferrari ad Imola
Autodromo Enzo e Dino Ferrari
Imola/Italy, November 6-8, 1998
Splendid weather conditions made the "Tutte le Ferrari ad Imola" event become a great final of the 1998 season. Not only the participants of the world's various F355 Challenge series – including Japan, the USA and Venezuela – gathered at the famous circuit near Bologna in Italy's Emilia Romagna region, but also the contestants of the Ferrari Shell Historical Challenge and many owners of historical Formula 1 cars of our favorite marque. Additionally, the Scuderia showed up with one F300 to be driven by Ferrari's official Formula 1 test pilot, Luca Badoer, and the Auto Sport Racing Team took part in the event with their well-known yellow F333 SP, piloted by Lilian Bryner. In short, everything that makes a great Ferrari event was there.
Since this was 1998's last of four events in total to see the participation of this great series, it is no wonder that there were almost no "new" cars in the field. One of a very few changes among the participants was the fact that Corrado Cupellini had handed over his 500 TRC to Egon von Hofer. The latter in turn gave his 250 GT SWB Berlinetta Rebuild, s/n 1791GT, to the Italian to drive. This 250 GT SWB has a clouded history and exists at least two times today – I personally do not think that one of these two cars is actually "more genuine" than the other, by the way...
Mario Bernardi was back in his 365 GTB/4 Daytona Competizione Prototype; since the crash during the Spa Ferrari Days in May, the car's front section had been repaired and the car has been gifted with a new layer of paint as well.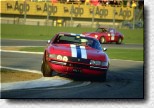 Multiple Le Mans-entrant Anders Olofsson could be seen in the cockpit of Claes Jung's Dino 206 SP s/n 016 which had formerly been driven at many occasions by Tommy Brorsson.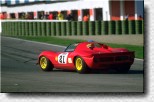 Uwe Meissner and Axel Urban of Modena Motorsport and ProTrade respectively brought their 250 Europa GT Berlinetta Speciale Pinin Farina s/n 0403GT - entered by Axel Urban's business partner Peter Paul – and the 250 GT LWB Berlinetta Scaglietti TdF s/n 1037GT for Mr. Urban himself. These cars had been seen during the Spa Ferrari Days only this year. Jacky Ickx drove the 312 PB s/n 0886, entered by the same team for a customer from Puerto Rico.
London specialist dealer Gregor Fisken showed up in Bernie Carl's 250 GTO '62 this time; the 250 GTO '62 s/n 3705GT of Ed and Leslie Davies is well-known already, but at Imola it sported an interesting sticker on the tail for the very first time reading "Baby on Board"; I was told that this was a mechanic's idea to make known that this Ferrari's lady driver is pregnant!
Frits Kroymans' 250 GTO s/n 4757GT was seen racing once again; the Dutch Ferrari importer had paused for a number of events. Peter Hardman, too, drove a 1962 250 GTO, s/n 3505GT of Harry Leventis; up to that time one had become used to seeing Mr. Hardman race in Mr. Leventis' 330 LMB.
Jon Masterson from California showed up in his beautiful 1956 250 GT LWB Berlinetta Scaglietti TdF s/n 0585GT.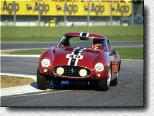 In short, there was plenty of material to fill two racing categories: One for drum braked and one for disk braked cars.
Saturday's drum brake race saw some hot action, Paolo Bozzetto and Carlos Monteverde fighting for the win in their 250 TRs. In the end, Bozzetto came in on first while the Brazilian collector crossed the finishing line only 0,796 seconds later; he drove the fastest lap of 2.22,760 min at an average speed of 124.320 km/h.
Matt Grist became third in his pre-war Alfa-Romeo, followed by the two 500 TRCs driven by Ernst Schuster and David Cottingham. These two pilots were fighting hard; the German eventually won the duel after Cottingham had spun in a chicane.
Unfortunately, Christian Gläsel was a non-starter since his father's 250 Testa Rossa apparently had some technical problems. Otherwise one would for sure have seen a fight between three 250 TRs instead of two.
On Sunday, Carlos Monteverde was missing for a serious reason to be explained later, so Paolo Bozzetto could take his win easier than on Saturday. Matt Grist came in on 2nd, and David Cottingham was third, following to an exciting battle with Ernst Schuster again. The German collector had dropped out in the seventh of eight laps.
Some very fast motor racing could be seen in the Historical Challenge's category of the disk braked cars. The major battle was of course going on between the sports-prototypes of the early 1970's: Ed Davies, Gary Pearson and Patrick Stieger raced in their 512 S' and 512 Ms,
while Jacky Ickx, Christian Gläsel and Christoph Stieger were out on the track in their 312 PBs. David Piper in his 330/365 P2 and the two Dino 206 SPs of Parasiliti and Olofsson proved as very fast again, too.
On Saturday, Ed Davies was out of the race after just one lap, Patrick Stieger ended up in the gravel after a spin and his brother dropped out with technical problems.
Last but not least, Gary Pearson blew the engine of Brandon Wang's 512 S in the final lap when he tried to catch his main rival, Jacky Ickx.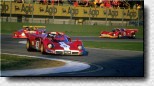 The Belgian ace took the win, followed by Christian Gläsel, Rosario Parasiliti, David Piper and Anders Olofsson.
One should also point out that only one of the several 365 GTB/4 Daytona Competizione entered in the race was faster than the older 250 GTOs of Hardman and Fisken: David Franklin in Carlos Monteverde's Daytona Competition. This should be mentioned to point out the outstanding performance of the mighty above mentioned GTO-pilots.
On Sunday, the field had been reduced by six cars. The ranking read Jacky Ickx on 1st, Christian Gläsel on 2nd and David Piper on 3rd, followed by Anders Olofsson, Rosario Parasiliti and Ed Davies.
Sixteen historical Formula 1 cars had been brought to Imola to be driven in demonstration laps on both Saturday and Sunday. The session on Saturday late afternoon was overshadowed by a serious accident of Carlos Monteverde: The Brazilian collector was severely injured when he crashed into a wall in his old 1950 375 F1 after the Curva Tosa. In early December, he was still in an Italian hospital.
Most of the F1 cars had already been seen during Uwe Meissner's Nürburgring track day or at the Ferrari Racing Days at Oschersleben earlier that year. Some "new" cars included Guido Ferrari's 312 B3 s/n 009, Jean Guikas' 312 B3 s/n 014 and the ex-Nigel Mansell 640 F1 s/n 110 owned by the boss of Motor Srl., Modena's and Bologna's franchised Ferrari-dealership.
Helmut Gossens from Germany could be seen for the first time in his recently acquired 642 F1, s/n 124, and Dr. Heinz Schumann from Berlin drove his 412 T1 s/n 155. Axel Urban's ProTrade GmbH had entered a 412 T2, s/n 163, and Fritz Grashei showed up with his F310, s/n 171. The German collector handed over the steering wheel for the weekend to his friend Dieter Streve-Mülhens.
On Sunday, Luca Badoer pleased the crowd on the grandstands with some very fast laps in the F300 – the lost world championship seemed to be forgotten already.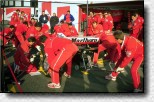 Swiss Lilian Bryner proved that her yellow 333 SP s/n 020 is almost as noisy as the F1 cars. Her demonstration run was followed by a ceremony in which several private racing teams were honored for campaigning 333 SPs successfully.
Piero Ferrari and Jean Todt handed over the bronze Prancing Horse to the Auto Sport Team of Bryner/Calderari/Zadra and to Giampiero Moretti.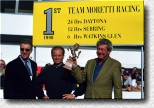 On Sunday, about 200 Ferrari could be seen in the parking lot, including several F50s, a 250 GT Coupé Pininfarina and an one-owner 365 GTB/4 Daytona held in an unusual color: "Blu Viola metallizzato" – metallic violet! Looking at the license plates of the cars, one could notice a 550 Maranello from Moscow and a 456 GT from Greece.
The schedule for 1999 has not yet been set, and according to our knowledge it is not 100% sure whether the Ferrari Shell Historical Challenge will be continued or not. It is not yet clear where and when the next "Tutte le Ferrari..." event will take place; at least it's for sure that it will be the last one in this millenium!

Andreas Birner