Very British, indeed!
Ferrari at the
Revival Meeting
Goodwood, September 18-20, 1998
Goodwood near Chichester in West Sussex, England, is a famous name among car enthusiasts, last but not least due to the famous Goodwood Festival of Speed hillclimb event which has already been covered on this site. The owner of this beautifully situated piece of land, the Earl of March, has now revived another traditional motor racing event: Back in 1948, his grandfather, the 9th Duke of Richmond, had established a racecourse on a former RAF airfield which had been used in WW II. The Goodwood Motor Circuit had then soon become the site of the famous RAC Tourist Trophy, but racing activities had come to an end in 1966, the track being used for testing only since. In January of 1997, the Earl of March launched an ambitious restoration project - not just one car, but an entire circuit had to be restored.
The resurrection of the Goodwood Motor Racing Circuit was completed recently, and the first event to be held at this phoenix-like track was a Revival Meeting, sponsored by many great names as Aston Martin, Jaguar, Ford, Honda, "Old Speckled Hen", MG, Omega, Chrysler, Shell, Ford, Louis Vuitton, Veuve Clicquot and the RAC.
This particular historic racing event which was meant to virtually revive the glory days of 1950's and 1960's motor racing at Goodwood was promoted as the "most stylish and most exclusive" one of its kind. Cars to be entered in the event had - of course - to have been built not later than 1966, and every person wishing to enter the paddock had to be dresses in 1960's fashion (for gentlemen, at least jacket, shirt and tie were obligatory if period fashion was not on hand). There were no cars at all allowed to enter the paddock which were built after 1966 - even the track's doctor drove around in a period Mercedes-Benz.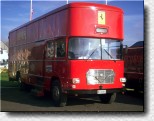 The grandstands and the paddock look exactly like in the 1960's, even including the poster publicity! The weather was splendid, warm and sunny allover the weekend. All this helped in creating an exceptional atmosphere of 1960's style making the Goodwood Revival Meeting a really unique event. When www.maranello.cc contributor Gregor Schulz asked racer David Piper for his opinion about the meeting he replied: "Heaven will probably be a disappointment after this."
Various Ferrari had been entered in many of the races to take place during the Meeting. In the "Woodcote Cup", which was hosted for F1, F2 and Formula Libre cars raced betwen 1948 and 1953, Carlos Monteverde had entered two horses from his stable: Tony Merrick drove Monteverde's pale blue 166 Formula Libre s/n 011F, while the Brazilian Ferrari-enthusiast himself piloted his 375 Formula 1, s/n 2.
Out of Tom Wheatcroft's Donington Collection, the 375 "Thin Wall Special" (s/n reported as 010) had been brought to West Sussex. This green car is a former works 375 Formula 1 sold in 1953 to A. G. Vanderwell who had it converted to a special.
In the "Freddie March Memorial Trophy" - a reminiscence to the Goodwood Nine-Hour Races of the early 1950's - one could see Sally Mason-Styrron in her small, really very well-known 166 MM Barchetta Touring s/n 0040M. Two 750 Monzas had been entered for this race as well: s/n 0440MD (engine 0516M) from the National Dutch Motor Museum, driven by Robert Ames, and s/n 0504M of Tom Walduck and Kerry McSwan.
"The Richmond Trophy" for F1 cars built between 1954 and 1960 included entries of Carlos Monteverde's 625 Argentina F1 s/n 0540, Nick Harley's spectacular 555 Super Squalo s/n FL/9001 (driven by Willie Green) and two Dino 246 F1s, s/n 0004R1 of restorer Tony Merrick and s/n 0006R2 of Robin Lodge. Both cars are total rebuilds by Graypaul Motors of Loughborough.
The "Lavant Cup" brought spectacular racing of sportscars built between 1957 and 1960. Nicolaus Springer drove his rare 860 Monza Spider Scaglietti s/n 0604M while restorer David Cottingham piloted his well-known yellow and black 500 TRC Spider Scaglietti s/n 0682MDTR.
Ben Cussons drove the 250 TR59 Spider Fantuzzi s/n 0726TR of the late John Godfrey; this car has a somehow dubious history.
Willie Green could be seen on the wheel of Sir Anthony Bamford's 250 Testa Rossa Spider Scaglietti s/n 0752TR.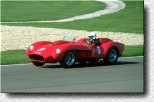 Terry Jones had brought his wonderful 1959 Dino 246S Spider Fantuzzi s/n 0778 from California; the 1960 Dino 246S Spider Fantuzzi s/n 0784 from Harry Leventis' collection is mechanically identical to Jones' car, but looks completely different.
It was brought to Goodwood by Tim Samways to be driven by Peter Hardman, who eventually took the win on Sunday, being chased by a Maserati "Birdcage" and Brian Redman in an Aston Martin DB2R2.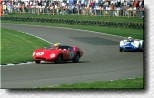 For the majority of the many, many thousand spectators, the revival of the RAC Tourist Trophy for GT cars was the highlight of the weekend. Having been the probably most famous event to have been hosted at Goodwood in the 1960's, the one-hour revival race starred many, many great names in motor racing. Stirling Moss and Mark Hales shared the wheel of Clive Beecham's ex-Rob Walker 250 GT SWB Berlinetta Competizione s/n 2735GT.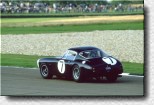 This is the very car which took Moss to 1st OA in the 1961 RAC TT at Goodwood. Rob Walker's almost identical SWB Berlinetta s/n 2119GT from the 1960 season, now owned by Paul Vestey, was present at Goodwood as well, although only for static display. Stirling Moss had won the 1960 Tourist Trophy at Goodwood in this car.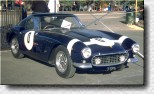 German collector Ernst Schuster had brought his 250 GT SWB Berlinetta Competizione s/n 1917GT to Goodwood. The silvergrey car had not been seen for quite a long time; s/n 1917GT had been sold new in Germany.
Another silvergrey example from the 250-family was Nicolaus Springer's 250 GTO '62 s/n 4153GT. The German collector living in Switzerland had a bad start and ended up on 14th position after some laps; situtation changed when the former Ferrari Formula 1 pilot Stefan Johansson took the wheel: He eventually came in on 3rd!
Harry Leventis and Tim Samways entered the pale green 250 GTO '62 s/n 3505GT, driven in the TT Revival by the always fast journalist Tony Dron and F2-pilot Ian Flux.
Brandon Wang and Sally Mason-Styrron participated in Brandon's 250 GTO '62 s/n 4219GT, basically following the Olympic Spirit of just being part of it.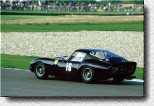 P. Paul Pappalardo had handed over the wheel of his GTO s/n 5111GT to Danny Sullivan, while Sir Anthony Bamford's '64-rebodied 250 GTO s/n 4399GT was driven by Damon Hill and Willie Green. Damon's father Graham drove this very car to 1st in the 1963 RAC TT at Goodwood, while the F1-star of the Jordan Team treated the car very carefully and eventually finished on 9th.
David Piper and Dick Attwood had planned to share the wheel of Piper's 250 LM s/n 8165, but the race was over for them just after a few laps when Piper slipped on oil and ended up in the gravel in Madgwick Corner. After someone had lost oil, the gravelfield at this corner following the straight virtually turned into a small "car park" since Burkhard von Schenk had already "parked" his Porsche 904 GTS there prior to the unintended "arrival" of David Piper's 250 LM.
Derek Bell and Peter Hardman were very fast in Harry Leventis' Tim Samways-entered 330 LMB, but a broken rear axle eventually forced them to give up. In the cockpits of other cars one could see Phil Hill, Bob Bondurant, Jochen Neerpasch, Martin Brundle, Sir Jack Brabham, Michael Salmon, Gary Pearson and Frank Sytner - the turnout of motor racing celebrities was simply tremendous. Nigel Corner and Barrie Williams eventually took the win of the TT Revival in their Jaguar E-Type lightweight, followed by Gregor Fisken and Frank Sytner in a similar car.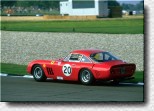 As already mentioned above, the atmosphere at Goodwood was unique. However, the event is not. The next Goodwood Motor Circuit Meeting has been scheduled provisionally for September 17-19, 1999.
Andreas Birner