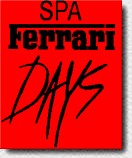 Spa-Francorchamps, May 1-3, 1998
Although the 1998 Spa Ferrari Days were plagued by heavy rain, several hundred Ferrari had come to the beautiful circuit of Spa-Francorchamps in the Ardennes in eastern Belgium. Only Friday and Sunday afternoon saw some dry although never sunny spells, the weekend's overall weather was cold and rainy. But since these conditions are somehow typical for these mountains, they were possibly just right to create an adequate atmosphere.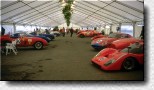 Going through the event's schedule, it became obvious that the Ferrari Shell Historical Challenge was definitely the highlight of the weekend. Although some of the Ferraristi who had previously announced their participation in the Challenge could eventually not make it to the event for various reasons, organizer Jean Sage had managed to gather not less than 37 rare historic Ferrari race-cars at Francorchamps.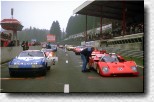 Other categories included the Western European series of the F355 Challenge and two Ferrari-sections called "Ferrari Class A" for gentleman drivers and their totally stock Ferrari street-cars and "Ferrari Class B" for race prepared Ferrari cars. Various Belgian touring car series made the weekend's programme complete.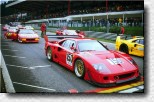 Furthermore, some areas in the large paddock had been reserved as parking areas for "normal" Ferraristi who did not participate in any of the races, but did just attend on the Ferrari Days as spectators and visitors.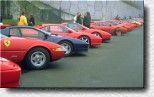 The factory-organized Ferrari Shell Historical Challenge keeps growing. The turnout of contestants was tremendous, and there were again some "new" cars to be seen at Spa which had not been seen in any of the 1997 events, or which were seen at least very rarely. At Spa, there was a large tent in the paddock to house all the cars of the Historical Challenge.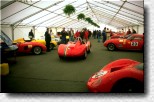 Uwe Meissner, boss of "Modena Motorsport Ltd.", a leading independent German Ferrari dealership and restoration shop, had brought his recently acquired 312 PB s/n 0886. Jacky Ickx had been recruited as a celebrity driver for this car, which was quite special since he used to be the director of this particular circuit years ago. And driving s/n 0886 did very probably remind him of the successful times he had with these cars in the early 1970's, although he did never pilot s/n 0886 in particular.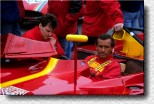 Peter Gläsel had brought another 312 PB, s/n 0882, to be driven in the Challenge by his son Christian. Unfortunately, the Ferrari-collector did not yet have wet-tires for this car. Due to the bad weather conditions, Christian Gläsel could eventually only move the car properly during the practice on Friday, which was dominated by him. On the two following days, he decided to leave the car in the pits.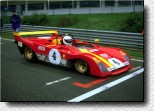 Ferrari-collector Ed Davies from Florida made use of his 512 M s/n 1024, while his wife Leslie drove the 250 GTO '62 #3705GT. The couple is also active in the American Ferrari Shell Historical Challenge which is organized by Ferrari of North America in the USA for the first time this year.
Mario Bernardi, a specialist dealer for historic cars of Hannovers Münden in Germany, showed up in his newly aquired 365 GTB/4 Daytona Competizione s/n 12547 for the first time. This car was the first Competition Daytona ever, built from a stock 365 GTB/4 on behalf from Luigi Chinetti who later campaigned the car with his NART, including the 24 Hours of Le Mans in 1969. In recent years, this car had been owned by "Pink Floyd" drummer Nick Mason.
Max Lustenberger from Switzerland brought his dark burgundy 365 GTB/4 Daytona Competizione s/n 13855 which is a former Chinetti car as well. It was 5th in class in the 1972 Le Mans 24 Hours. Also from Switzerland: Nicolas Bührer and his 365 GTB/4 Daytona Competizione s/n 15225.
Bernie Carl from the USA campaigned his dramatic Dino 268 SP s/n 0798. The car was driven by the well-known classic car dealer Gregor Fisken from London. Seen in the Historical Challenge for the first time, too, was the Dino 246 S Spider Fantuzzi s/n 0784. Formerly owned by "Pink Floyd" manager Steve O'Rourke, it is now owned by Harry Leventis. The collector from England again handed over his car to the professional driver Peter Hardman, who had already driven Leventis' 330 LMB in the Challenge in 1997.
Modena Motorsport were present not only with the above mentioned 312 PB, but also with a 250 GT LWB Berlinetta Scaglietti "Tour de France" (s/n 1037GT) and the one-off 250 Europa GT Berlinetta Competizione Speciale Pinin Farina s/n 0403GT. The latter carries a wonderful and unique body which combines the front design of the early 250 Europa GTs with a finned tail end that is nearly identical to the one found on the famous "Ingrid Bergman" 375 MM Berlinetta s/n 0456AM. S/n 0403GT was driven by Uwe Meissner himself in qualifying on Saturday, but unfortunately suffered some technical problems since it had not been moved for many years. S/n 1037GT was piloted by fellow car dealer Axel Urban from Hamburg.
Another 250 GT LWB Berlinetta "Tour de France" not previously seen in the Challenge had been brought to Belgium from Switzerland: s/n 0909GT, owned by Carlo Vögele. This car is painted in red with a white stripe, the Swiss racing colours. This is a reminiscence to 0909GT's early history when it was raced in many events in Switzerland by its first owner, the Swiss privateer Willy Lambert.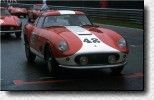 Carlos Monteverde, the well-known London-resident Brazilian collector, personally piloted his 250 TR Spider Scaglietti s/n 0738TR, while he had handed over his 750 Monza s/n 0552M to a friend of his, Antonio Amaddeo. A third car out of his large collection was the 365 GTB/4 Daytona Competizione s/n 15667, which was piloted during the weekend by David Franklin.
Also a novelty in the Ferrari Shell Historical Challenge: For the first time, a normal street model with a racing pedigree had been admitted to the series. Jean Guikas, a classic car dealer from Marseille/France, drove a stock 275 GTB/2 Shortnose, s/n 07765. This car had been raced in several events in the mid-1960's. Jean Sage decides whether or not a car is "worthy" of being entered in the Historical Challenge if it does have a racing pedigree although it is not a competition model.
There were too many cars in the Historical Challenge to be mentioned separately, so please study the list of the participating cars to find all of them.
The two races on Saturday evening and Sunday morning were naturally dominated by Jacky Ickx in the 312 PB. The Belgian racer with residence in Monaco achieved a top average speed of 146.471 km/h and needed 2:51.655 minutes to complete a lap on the difficult and wet track.
The Stieger brothers from Switzerland were as close to him as non-professional drivers could be; Christoph in the 312 PB s/n 0888 became 3rd on Saturday and 2nd on Sunday, while Patrick drove the 512 M s/n 1018 to second on Saturday.
On Sunday, he suffered a technical problem in the final lap and so Tommy Brorsson snatched the third position on the podium. The man from Sweden drove Claes Jung's Dino 206 SP, s/n 016. In free practice on Friday, Christian Gläsel had even been faster in his 312 PB than Ickx, but as already mentioned above, the young German could eventually not start in the races. On Saturday, he did just one lap with the slick-equipped car before returning to the pits since the risk of a crash on the wet surface was too high.
Since the Historical Challenge is divided into eight classes, not only the overall winners should be mentioned. For example, it is quite remarkable that another newcomer to the Challenge, Nicolas Springer, did perform excellently in his 250 GTO '62 s/n 4153GT. In "Class 5" for disk-braked GT-cars of the 1960's, he became 2nd on Saturday and 1st on Sunday. "Class 4" for cars with drum-brakes of the 1950's was dominated by Paolo Bozzetto driving Pietro Brigato's 250 TR Spider Scaglietti s/n 0758TR, followed by Carlos Monteverde.
Bernd Hahne, a semi-professional driver from Germany, performed outstandingly in his 166 MM/53 s/n 0264M: His best average speed was 117.150 km/h - this means that he was faster than several of the younger 250 GT TdFs, a 500 TRC and a 750 Monza, but it has to be considered that the engine of his car was upgraded to 3-litre spec's!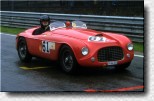 Some accidents again proved that the Historical Challenge is not a "Sunday-afternoon-outing" for hobby drivers, but a real historic racing series: On Saturday, Nicolas Bührer hit the passenger's side of Bart Rosman's 250 GT SWB Berlinetta Competizione s/n 2179GT when he tried to overtake in a turn, badly damaging the body.
Paolo Bozzetto bumped into the tail of Mario Bernardi's Competition Daytona, damaging the 250 TR's right front. Plinio Haas' 250 GT TdF (s/n 1401GT) lost a wheel and Christoph Stieger hit the curbs with the 312 PB's front spoiler, slightly damaging it. On Sunday, Mario Bernardi spun in the Daytona on lost oil and touched a barrier - s/n 12547 is now in need of new headlights and bumpers. Up to that point, the German did perform very well in his first race in this car.
Several participants suffered technical trouble and mishaps which sometimes forced them to give up. Max Lustenberger's Daytona was left in the paddock on Saturday and Sunday after water had somehow made its way into the car's oil, and Nicolas Zapata's 625 TR (s/n 0612MDTR) was not seen in the heat on Sunday due to engine trouble.
However, the Ferrari Shell Historical Challenge brought both interesting cars and interesting motor racing to Spa-Francorchamps, and this first event in 1998 did definitely generate an appetite for more.
The section of the world-wide F355 Challenge consists of drivers from the UK, France and Belgium, plus pilots from Switzerland, Luxembourg, the Netherlands, Denmark and Maroc. The top drivers in this series are François Jakubowski from France and J.-C. Pillon from Switzerland; they did dominate both the training sessions and the two heats on Saturday and Sunday. On Saturday, Jakubowski took the win, followed by Pillon and Massimo Manganaro from France. Due to technical problems, Jakubowski was a non-starter on Sunday. Pillon came in on first and was joined on the podium by Christophe d'Ansembourg from Belgium and Sean Walker from England.
This class is particularly interesting because it consists of very different Ferrari cars, ranging from a modified 365 GTB/4 Daytona (s/n 14321, owned by Richard Chester from England) to a genuine F40 LM (s/n 88520, driven by Belgian Michel Vanneste).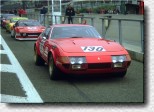 The class is divided into several groups, named "V8", "V12/B12" and "Proto". The most spectacular cars are gathered in the latter group, since it is intended for heavily modified Ferrari cars, ranging from a 348 GT Competizione to several F40s. These F40s were modified to the so-called "GTE" specifications, similar to the F40s which were campaigned in the BPR series; they feature modified engines and dramatic changes on their bodies, most of them looking like F40 LMs with a large adjustable rearwing etc. Dick Waaijenberg and Michel Oprey, both from the Netherlands, were dominant in their modified F40s on Saturday, followed by Peter Andersen from Denmark in his 348 GT Competizione and Roberto Vaglietti in the one-off 348 tbf, a competition version built for Garage Francorchamps and Jean Blaton in the early 1990's.
On Sunday, Michel Vanneste from Belgium took the win in the F40 LM s/n 88520, followed by Michel Oprey and Dick Waaijenberg. The day before, Vanneste had dropped out after just one lap with mechanical problems.
Due to the bad weather, there were not too many special Ferrari to be seen in the parking areas. The Belgian Ferrari-importer Jacques Swaters drove his 166 MM Barchetta Touring s/n 0064M during a parade on Sunday. This parade made it possible for some selected Ferrari-owners to absolve some slow laps in their cars on the circuit. During a similar session on Saturday, a Belgian F50 had been crashed very heavily in the Eau Rouge turn when the driver lost control, spun off the track and crashed the car's tail into the barrier.
In the parking lot, one could see a silvergrey 250 GTE s/n 4823GT, several 365 GTB/4 Daytona and a 365 GTC/4 s/n 14493, Jacques Marcotty. Other interesting cars included the 275 GTB/2 Longnose s/n 08259 of Maurice Harlaux and the 288 GTO s/n 53779 of Christian Clerico. Modena Motorsport had a 1954 625 Formula 1 s/n 0540 on display in their tent.
Carlo Tazzioli was the representative of Ferrari SpA during the event, and Stewart Winston of Ferrari's UK-importer Maranello Concessionaires Ltd. was present as well. Maranello Concessionaires, an Inchcape subsidiary, recently took over the Garage Francorchamps, importer for Belgium and Luxembourg, from Jacques Swaters.
Despite of the poor weather conditions, many spectators at come to the track, especially on Sunday. About 200 Ferrari could be seen in the parking areas. So, the 1998 Spa Ferrari Days were obviously quite a success, and they will take place next year again. Hopefully, the weather will be better then to make them perfect.
Andreas Birner