Coys International Historic Festival
Silverstone, July 24-26, 1998
The Historic Festival hosted by the renowned auction house of Coys of Kensington at the famous Silverstone circuit in England is probably undoubtedly the most important event of its kind in Europe. Thus the 1998 International Historic Festival did again attract hundreds of entrants for the numerous races and meetings of marque clubs, plus thousands of spectators. The weather was just splendid during the weekend - warm, sunny and dry - and made the entire event an absolute "must" to any car-nut.
Of course, if you are mad for Ferrari's "Cavallino Rampante", you simply had to be there, too, one more time. Well, of course Ferrari was not the featured marque again as in 1997; instead one did celebrate the 50th anniversary of the 1948 British Formula One Grand Prix, the first motoring event hosted at the (former) airfield of Silverstone in Northamptonshire. The organizing committee had managed to reunite most of the actual (or at least identical) cars and even some of the drivers of the 1948 grid - however, there was naturally no Ferrari among them.
But nonetheless, many interesting Ferrari could be seen again in the paddock since the Ferrari Shell Historical Challenge was part of the event's schedule. By the way, many of the participants took the occasion to enter their cars in other races as well: For example, Ed Davies raced his 512 M not only in the Challenge, but also in the Pre-1972 Le Mans Car Race and many of the various 250 GTs and GTOs part of the Challenge were to be driven in the Pre-1964 GT Car Race as well.
The capacity of both the paddock and the grid was limited, and so organizer Jean Sage had preferred Challenge entrants who had already been part of the two events at Spa and Dijon earlier this year. Thus, there were not too many "new" cars to be seen in the series. The probably most spectacular among these newcomers rolled out on Friday only: Hartmut Ibing's recently acquired 250 LM, s/n 6217, suffered from technical problems after Friday's training session and was out for the rest of the weekend. S/n 6217 had come from David Lucas' Nelson Collection, a small Ferrari museum in New Zealand.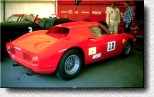 Another car that took part in the qualifying only was Lawrence Stroll's 250 GTO '62 s/n 3451GT. The chairman of the Tommy Hilfiger fashion company - one of the Scuderia Ferrari's sponsors in Formula 1 - had his car completely restored during the winter. It is fitted with an unstamped spare engine block, but the original engine is with Mr. Stroll, too. Also right out of the restoration shop: Anthony Wang's 250 GTO with 330 LMB-style body s/n 4713GT. The car which was formerly painted dark red now sports a bright red livery.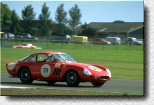 Swiss collector Erich Traber showed up for the first time in his 250 GT LWB Berlinetta Scaglietti "Tour de France" s/n 0901GT. He moved the car very carefully on the track, but although he was too slow to be classified in both heats on Saturday and Sunday, he obviously enjoyed driving this car while his son Christian piloted the 750 Monza Spider Scaglietti s/n 0562M (the Monza is also stamped s/n 0554M).
Not a new car, but a new face could be seen in the cockpit of Claes Jung's Dino 206 SP s/n 016 -The Swedish enthusiast had handed over the wheel of his car to Anders Olofsson, the well-known driver of sports cars and prototypes and multiple Le Mans participant. However, Mr. Olofsson eventually did not drive the small Dino very hard, but did achieve a 6th and 5th OA in the heats.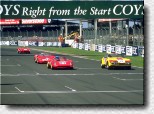 A new face and a new car came from Hong Kong Patrik Ma drove his 275 GTB/C s/n 9067.
Interestingly, the outcome of the two heats held on Saturday and Sunday was almost identical as far as the top positions are concerned. Gary Pearson was dominant in Brandon Wang's 512 S s/n 1016 and virtually outperformed the two 512 Ms of Ed Davies and Patrick Stieger: Gary was between three and four seconds faster than his opponents all the time, but Silverstone probably is one of his best-known circuits.
Christoph Stieger performed well on Saturday in his 312 PB s/n 0888, ending up on 4th position, but was a DNF on Sunday. Christian Gläsel and his 312 PB s/n 0882 were non-starters in the heats after he had damaged the car in Friday's qualifying session.
Many cars had to pause on Sunday, including the Dino 268 SP s/n 0798 entered by Bernie Carl and driven by classic car dealer Gregor Fisken: The latter blew the Dino's engine on Saturday, but was back on duty on Sunday in Bernie Carl's 250 GTO '62 s/n 3387GT.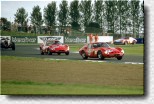 Collector Harry Leventis had handed over two of his cars to professional or semi-professional drivers: Peter Hardman took the wheel of the Dino 246 SP s/n 0784 this time while the 330 LMB (s/n 4381SA) he used to drive so many times was piloted by journalist Tony Dron this time. Unfortunately, Mr. Dron dropped out on Saturday and was a non-starter on Sunday.
The first heat on Saturday was overshadowed by a severe accident: In the very first lap, Carlos Monteverde lost control in his 250 TR s/n 0738TR when he slipped on oil; being touched by another car, the Testa Rossa spun and Dutchman Bart Rosman in his 250 GT SWB Berlinetta s/n 2179GT crashed into the tail of Monteverde's spinning car very heavily. The collector from Brazil was rushed into hospital, but fortunately he had suffered no physical damage except a bad headache while his car, well, will probably not be seen back on the track for quite a while. Bart Rosman, too, remained unhurt, but the nose of his SWB was badly bent. The race had been stopped immediately and was restarted after the debris had been removed.
Likewise as in previous years, the FOCGB held a meeting at Silverstone in conjunction with the International Historic Festival (a track-day had been hosted at the circuit some days earlier) which did once more attract about 150 cars with some very special examples among them.
The probably most interesting one was the immaculate 166 MM/53 Spider Vignale of Bernard Worth, s/n 0308M. This car has been in Mr. Worth's possession for some 30 years by now, and after a long time of storage it was presented to the public for the very first time since a remarkable number of years. Much restoration work has been invested during recent years, and the little Ferrari is now just stunning. Of course it was adequately parked right in front of entrance of the FOCGB's tent in which one was offered several kinds of refreshments and FOC-merchandising products.
Next to s/n 0308M, one could see the 225 Sport Spider Vignale s/n 0198ET of David Vine. This was a rare occasion to compare the first series of spyder bodies manufactured by Alfredo Vignale with the ones of the second series.
Martin Emmisson again showed up in his dark blue 250 GT California Spider LWB s/n 1411GT, originally owned by Luigi Innocenti and later by the Italian opera star Mario del Monaco. Also from the 250 GT-family: two SWB Berlinettas, s/n 2067GT of Bernie Carl and s/n 2209GT of Stuart Passey, which were on display on the FOCGB area, too.
Several 250 GTOs had been entered in the races, but Stephen Pilkington's example (s/n 3527GT) was on show at the Ferrari Club's gathering.
Also very special: The 330 GT s/n 5805GT of Richard Allen. Both the chassis and the engine of this car have been bodied as a Nembo Spider. According to the owner, this is the third body built by Carozzeria Neri & Bonacini of Modena in the second half of the 1960's. Two other Nembo spyders on 250 GT chassis are known: s/n 1777GT and s/n 3771GT. Someone had ordered a third car, but for some reason which is unknown to me this third project was never finished by the coachbuilders and the body remained unused for years. Much later it was discovered and made its way to the UK where it was united with the above mentioned 330 GT. Now the stunning car is painted dark metallic blue with a tan interior and is an RHD.
Among the various modern Ferrari on display, the F50 s/n 103496 of Ian Hetherington probably caused the major stir: This F50, which is one of a very few to have been sold new in "Rosso Barchetta", a dark non-metallic red color, is being used by Mr. Hetherington in the Maranello Challenge in the UK and therefore equipped with many sponsoring stickers providing it with quite a sporting look.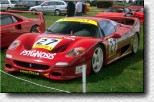 Some other interesting Ferrari were parked in the paddock, including Frank Sytner's 250 GT California Spider SWB s/n 3077GT. This car sported an unusual yellow livery for a number of years, but has been repainted in silvergrey metallic in the recent time. Another car one should drop a line about is the red 275 GTB s/n 06683: This 275 GTB/2 Shortnose, registered 19 LML, has been rebodied as a GTB/4. Compared to standard 275 GTB/4s, its outside filler cap is the only remarkable difference.
Two Ferrari were the stars of the annual auction performed by Coys during the International Historic Festival: First, a dark green 250 GT California Spider LWB, s/n 1253GT, which had been entered by a German seller. The car sold at a remarkable price of 330.000,-£ plus commission. The buyer apparently was a British collector.
The second special Ferrari on sale was 500 Superfast s/n 6679SF. This car had been sold new to the famous comedian Peter Sellers, and some interesting photos of him together with this car could be seen in the catalogue. S/N 6679SF, one of eight 500 Superfasts equipped with RHD, had been entered in the sale by its third owner and sold at 100.000,-£ plus commission.
Andreas Birner