Brooks Auction
Gstaad/Switzerland, December 19, 1998
For the first time after the heyday of the early 1990's, a renowned auction house took the risk of hosting a sale dedicated to Ferrari automobiles and memorabilia exclusively: Brooks auctioneers of London had chosen the famous Palace Hotel in the even more famous Swiss town of Gstaad as the location for the sale to take place on Saturday, December 19. The fantastic hotel – partly or maybe even entirely owned by Bernie Ecclestone – is located on top of a hill in the center of Gstaad, providing a great view of both the town and the impressive surrounding mountains. Covered adequately with snow, this picturesque scene did for sure provide a more than nice setting to the sale which brought the attendants into some sort of "buyer's mood".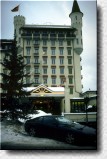 Loads of memorabilia, scale models and Ferrari-related art had been entered in the sale, and 29 lots were Ferrari automobiles. On display only, not to be offered in the auction, were two particularly interesting Ferrari: Fabrizio Violati's Dino 196 SP Spider Fantuzzi s/n 0806 and Jack Sears' 250 GTO '62 s/n 3729GT had been brought to Gstaad not only as outstanding eye-catchers, but also to attract potential buyers since these cars are really available on the market. If someone would really have been interested in one of these extremely expensive machines, a deal could have been arranged apart from the official sale. It is unknown to me whether this happened or not.
However, the 29 cars were on display in the hotel's underground car-park, while the actual sale took place in a nicely decorated room (or hall) in the Palace's ground level. The auction was – of course – performed by Robert Brooks himself, assisted among others by Simon Kidston (managing director of Brooks' Geneva branch) and François Degand, Brook's representative for the Côte d'Azur and well-known for piloting his 365 GTB/4 Daytona Competizione in the Ferrari Shell Historical Challenge.
Virtually every piece of memorabilia was sold – and very often at incredibly high prices. For example, an acrylic on board mural of a 250 GTO '62 with an estimate set to about 600,- or 800,-SFr, eventually fetched more than 4.100,-SFr from an American buyer! I am quite sure that Brooks' choice of Gstaad as the site and December 19 (only a few days prior to Christmas!) as the date of the sale proved as well thought out, especially when looking at the results of the memorabilia sale...
Anyway, some cars in the sale deserve some commenting, first of them being a 275 GTB/2 Shortnose s/n 07473. Unfortunately, this car was fitted with a cream leather interior, which does really not suit the yellow car too well. But this 275 GTB (according to my knowledge entered in the sale by a German) proved as a real bargain, selling at just 229.000,-SFr.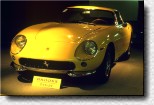 One of the sale's highlights was Federico Dubbini's 250 MM Berlinetta Pinin Farina s/n 0310MM, ex-Pierre Noblet. The extremely original car is fitted with a later 250 GT-engine (interestingly, restamped as "0310"...) and had been on the market for two or three years. At Gstaad, it finally sold at 949.500,-SFr.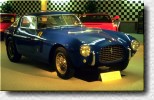 Another Ferrari of particular interest was the 250 GT Cabriolet Series I, s/n 0735GT, which eventually sold at 482.000,-SFr. In my eyes, the price is relatively high since this wonderful car was in need of - at least – some detailing. Furthermore, it was equipped with wrong (too wide) Borrani wire wheels and had been converted to RHD (which does normally not help to sell a car on the world's market). Its color is subject to everyone's personal taste, although I personally think that red is definitely not the right color for this beautiful machine. An important advantage in selling one of these rare Ferrari convertibles is that there is normally none on the market in Europe.
Interestingly, the black 275 GTB/4 s/n 09921 of renowned collector Wolfgang von Schmieder failed to sell at 400.000,-SFr (excl. premium); at 480.000,- to 500.000,-SFr, the estimate for this car had been fixed too high. At least the reason for this high level is obvious: The car's ground up restoration did reportedly cost 267.000,-SFr...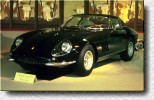 Another interesting car that remained unsold was the French-owned 365 GTS/4 Daytona Spider, s/n 15535. No bidder was willing to pay more than 450.000,-SFr, which is – in my eyes – slightly below the European market value.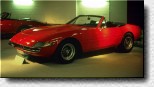 F40 LMs are really hard to sell, so one did not feel surprised when s/n 88522 (entered by Axel Urban's ProTrade GmbH) failed to sell at a bid of 560.000,-SFr at the first trial. But apparently seller, buyer and Brooks managed to agree on the deal in the aftersale, the price totaling at 619.500,-SFr including premium.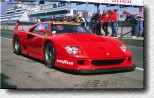 Another bargain was the German-owned F93 A Formula One s/n 147; well, this car does not have any racing history at all, but since there have turned up some occasions to drive this kind of machinery in Ferrari events in Europe, it cannot be wrong to pay 234.500,-SFr for it.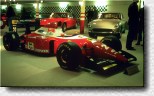 The 275 GTB/4 Spyder Conversion of Swiss Ferrarista Peter Heuberger was another "DNS" at a bid of 430.000,-SFr. For some reason unknown to me, seller, auctioneer and consultant could once again not resist to describe the car as a "NART" spyder in the headline to the car's description in the catalogue. The same catalogue correctly mentions that the conversion was in fact performed by Straman of Costa Mesa in California; except the beautiful shape, this car has no relation to the ten original 275 GTB/S4 NART Spyders manufactured by Scaglietti. Unfortunately, many of the numerous conversions in existence are often described as "NART Spyders", only adding by this incorrect descriptions to the confusion among people and journalists who are not too much into the topic. As a result of this incorrect statement, the renowned German classic car magazine "Motor Klassik" announced in their preview to the Gstaad sale that "...the lots will include a 275 GTB/4 S NART Spyder" ("Motor Klassik" 1/1999, p.6).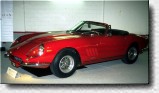 However, another very interesting car on offer was the old 166 Inter Coupé Touring (s/n 029S). This nicely restored Ferrari – built back in 1949 – failed to sell at 340.000,-SFr.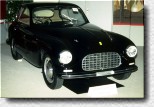 Another bargain was the red 275 GTS s/n 07861 entered by the same German owner as the yellow 275 GTB/2: It sold at 168.500,-SFr only. Just for the record: The catalogue erroneously stated that this 275 GTS had been sold new in Sweden. In fact, s/n 07861 was sold new in Germany and made its way to Sweden in 1975, prior to returning to Germany in the late 1980's.
The second highlight of the auction was Fabrizio Violati's very original 250 LM, s/n 6233. The fiberglass-bodied example with American racing pedigree apparently failed to sell in the first attempt at a bid of 2.600.000,-SFr. Interestingly, the official results list the 250 LM as "sold" at 2.420.000,-SFr, so something must have happened in the aftersale obviously.
Lot 176 was a 250 GTE-based 250 GTO '62 Replica, professionally made in the UK for an insane money of about 400.000,-£ in the early 1990's. I personally felt pretty surprised about the fact that someone made an offer of about 520.000,-SFr for this replica in the sale, but I was even more puzzled when I noticed that the vendor rejected the offer! Although I am well aware of the fact that the making of this really nicely done replica did cost a fortune, it is also obvious that there is no real use for these cars: They are (normally) not allowed to take part in historic racing, and if the owner turns up at a Ferrari meeting, he or she has to answer many questions by "No, it's only a replica."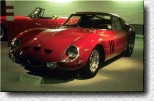 The second 275 GTB entered in the sale by Wolfgang von Schmieder, a GTB/2 with serial number 07269, failed to sell, too, at an offer of 200.000,-SFr only. Although this car is in a nice condition, it has some sort of problem since it was once converted from Shortnose to Longnose specifications. Maybe this was the reason for which it remained unsold at Gstaad.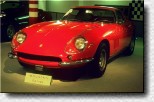 A rare 365 GTS fetched 311.500,-SFr; although only 20 examples were made, these nice cars are relatively hard to sell. The price for this example – s/n 12163, the first 365 GTS produced - was probably correct, especially since it might need some attention in detailing. Apparently, s/n 12163 had spent some time in storage.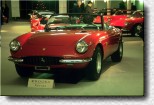 The last car to be sold in the Brooks auction was Jean-Robert Grellet's F50. Being a very early example (#037 of 349 made) held in "Argento Nürburgring metallizzato" (silver metallic) and having covered about 20.000 kms, it failed to sell in the auction at a bid of 550.000,-SFr. In the aftersale, a French buyer eventually agreed to pay a total of 608.500,-SFr for the car.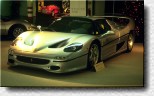 I personally would like to congratulate Brooks on this sale; I think it definitely needs a good portion of optimism and enthusiasm to perform a "Ferrari-only" auction. Apparently, it was worth the risk in the end. The sale mirrored the situation of the European Ferrari market quite well: Rare, old and expensive examples are easier to sell than more common ones. Buyers are mainly going for outstanding examples and cars eligible for events like Mille Miglia, Tour Auto and Historical Challenge. Today, it is very, very hard to sell Ferrari automobiles like 330 GT, 365 GT, 365 GTC/4, 365 GTB/4 Daytona or even a 400 or 400i. Selling a 512 BB is almost impossible. For this reason, one should thank Brooks for the risky decision to include some of these hard-to-sell cars in the auction to provide a wider variety of the marque in this sale. Fortunately, Brooks even managed to find new homes for a 365 GTC/4 and a 400 Automatic.
Maybe this will encourage Brooks Auctioneers to perform a second "Ferrari-only" auction in the future.
Andreas Birner