No doubt: Ferrari celebrate their 50th anniversary this year - 50 years ago, an automobile with this name hit the road for the very first time.
Big question for the Ferraristi: Which day should one chose to celebrate this anniversary in an adequate way?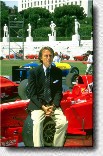 Well, finally the very date on which Ferrari celebrated their first racing victory 50 years ago turned out to be the most adequate one: On May 25, 1947, Franco Cortese drove the little 125 S to 1st in the 9th Grand Prix of Rome which was hosted on the streets around the Caracalla hot springs.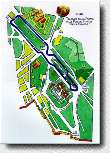 Exactly 50 years and one week after Cortese's victory, on June 1st, 1997, about 200 classic Ferrari gathered at nearly the same spot in Rome, including Formula 1 cars, racecars, prototypes and of course many street models that all once took part in building the myth of Ferrari.
The event organizers had achieved what would have very probably been impossible in every other metropolis on earth: Ferrari had been allowed to revive the old Caracalla racetrack in the heart of Rome to celebrate their anniversary!
All that begun two days earlier in the Stadio dei Marmi (an ostentatious building remaining from Mussolini's era) in the northwestern part of Italy's capital. Nearly everything that had left the factory in Maranello in the last 50 years was present.
For example: the 166 Spider Corsa s/n 002C, which had very probably been built on the chassis s/n 1C that originally had been Cortese's winning car in 1947. As reminiscence to the 125 S (of which none survived), Ferrari had built two complete replicas in the 1980's, and one of these was present at Rome, too.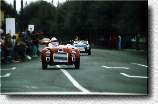 On Tuesday, June 3, 1997, a cavalcade of more than 200 of Enzo's finest took the route of the Mille Miglia from Rome to Maranello, Siena and Florence being waypoints along the journey which was absolved at high speed.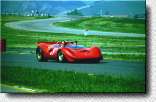 Accompanied by the police and RAI (Italy's most important TV-station), the participants from all over the world reached Maranello in about eight hours.
Upon the arrival in Maranello, one gathered on Ferrari's factory-owned track, the Pista di Fiorano. The following weekend, the entire region was involved in the celebration, which featured public displays of the cars in and around Maranello and Modena and a glamorous finale in the Braglia stadium at Modena with a Formula 1 demonstration involving Froilan Gonzales, Nicola Larini and Eddie Irvine, plus an open-air concert by Chris Rea and Roxette. Overall, about 2.500 Ferrari were present!