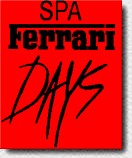 Spa-Francorchamps, April 25th, 1998
Spa-Francorchamps in eastern Belgium, one of the most beautiful circuits in the world, will be once again the site of the 10th "Spa Ferrari Days" on May 1-3, 1998.
Ten years ago, the Ferrari Club Luxembourg initiated the first "Ferrari Days" at Spa-Francorchamps. The event was a success, and both the Club Ferrari Belgio and the Royal Automobile Club of Belgium took over the organization of the event in the following years. Since then, the Spa Ferrari Days did always attract many hundred Ferrari-owners each year, plus several thousands of fans and tifosi. The event became so successful and popular that in our days even the Belgian Procar touring-car series and the Renault Mégane Cup form a part of the interesting programme.
Likewise as in the foregoing years, there will be several Ferrari-categories to be seen on the track: One will see the F355 Challenge Series "West" (consisting of participants from France, the UK and the BeNeLux countries), the so-called "Ferrari Class A" (gentleman drivers, cars fitted with road tyres) and "Ferrari Class B" (gentleman drivers, cars fitted with racing tyres) and last but not least one will have the opportunity to watch the first 1998 heats of the "Ferrari Shell Historical Challenge". The turnout of cars in this category will be sensational at this event according to the list of participants which has been released by Ferrari recently.
Friday and Saturday morning will see the drivers of all classes practicing on the track, while the various races will take place on Saturday in the afternoon and on Sunday. And of course, there will be many Ferrari to be seen in the separate parking areas in the paddock. Usually, the Belgian importer, Garage Francorchamps SA, has several cars on display as well. So, the "Spa Ferrari Days" 1998 will be a 'must' for Ferraristi.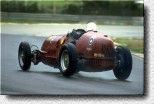 See you in Spa !
Andreas Birner
For additional information, please contact:

RACE

Rue d'Arlon 53

B-1040 Bruxelles

Tel.: +32 / (0)2 / 287 09 55

Fax: +32 / (0)2 / 230 75 84

Internet: http://WWW.RACB.BE